Posted on
Wed, Sep 26, 2012 : 5:22 a.m.
New 'bespoke' stove will set you back $100,000 or more
By Jessica Webster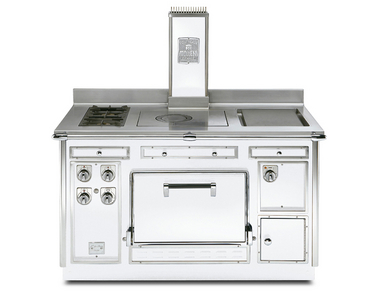 Photo courtesy of Electrolux.
Love to cook? I mean really, really love to cook, more than, say, you love your 401(K)? Electrolux is rolling out just the stove for you. Priced at more than the cost of a a new Porsche 911, it's positioned to be the midlife crisis purchase for the flashy foodie.
The Electrolux Grand Cuisine Molteni Range is fully customizable, with an optional mixer, deep fryer, vacuum sealer, induction zone, and even a USB port for uploading recipes (though the oven doesn't cook the recipes independently... yet.) Fully kitted out, a Grand Cuisine Molteni Range can run as much as $262,000. In car terms, that's about the price of a Bentley Continental Supersport.
So what's the market for this stove? According a report from Bloomberg news, Electrolux is targeting "very high net worth people with two or three homes."
So will we be seeing these stoves popping up in houses across Washtenaw County? I called Mark Bishar, owner of Ann Arbor's Big George's Appliance Mart, to see what he thought.
"It's really nothing new," said Bishar. "We'll have access to them, but we sell ultra-premium products all the time."
What's the market like for pricey stoves in the area?
Bishar says that in terms of units sold, ultra-premium brands like Sub Zero, Viking and Wolf represent less than 10 percent of the appliances he sells from his Ann Arbor store. But what he's seeing more and more is that people are investing in more expensive, commercial-grade cooking equipment while cutting corners on other appliances like refrigerators and dishwashers.
But are people actually using these stoves? Or are they being purchased for bragging rights?
"I'll tell you, this has changed. Five to six years ago, people were putting in trophy kitchens. Probably 60 percent of them weren't using those kitchens. They were just for show, maybe they were using an auxiliary kitchen. But now we've got people buying pro ranges and putting them in $200-$300,000 homes. People are really buying these products for what they're built for."
So what about these fully customizable, bespoke ranges?
"A lot of ranges are customizable. And yet, almost all of our customers choose four burners and griddle. Or six burners and a griddle on a 48-inch range."
If you are considering upgrading to a $100,000 range, Bishar has a word of caution. They're beautiful, and they are certainly a conversation piece, but make sure you're budgeting enough for installation on top of the already exorbitant price. It can cost upwards of $5,000 to get such a complicated piece of equipment set up in your kitchen.
Jessica Webster leads the Food & Grocery section for AnnArbor.com. You can reach her at JessicaWebster@AnnArbor.com or follow her on Twitter.