Posted on
Thu, Mar 21, 2013 : 7 a.m.
New Mexico chicken sandwich: the perfect marriage of bacon, avocado and spicy mayo
By Jessica Webster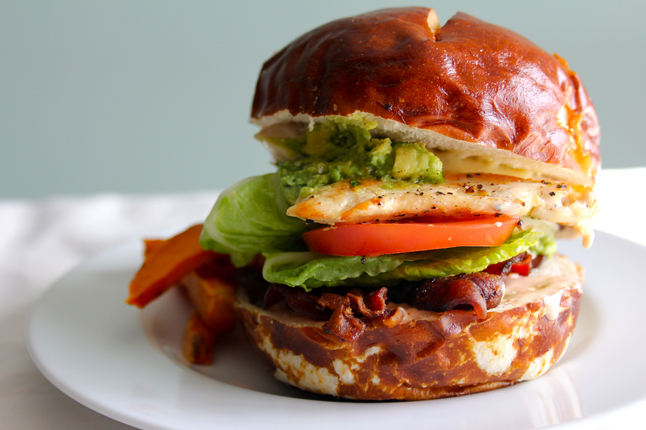 Jessica Webster | AnnArbor.com
Like it or not, we live in a town closely associated with sandwiches. Ask a touring musician about Ann Arbor, and they're likely as not to rave about their favorite sandwich number at Zingerman's Deli.
But my favorite sandwich comes from the west side of town. I'm a fool for the Zingerman's Roadhouse New Mexico Grilled Chicken Sandwich.
Grilled chicken breast with jack cheese, applewood-smoked bacon, lettuce, tomato, avocado salad, green chiles, and spicy mayo, served up between two slices of grilled bread. It sounds so simple, but it's heaven on a plate.
The problems with this sandwich are two-fold. One: the sandwich is only served at lunch, and I don't work anywhere near the Roadhouse, making this something of an impossible feat. Two: even when I can sneak away for a longer lunch, the New Mexico chicken sandwich isn't always on the menu.
Occasionally I will ask if the chef will make me a chicken sandwich when we're at the Roadhouse for dinner, but ordering off-menu makes me feel kind of like a pretentious jerk, so I try not to do it too often.
It finally occurred to me that other than the house-roasted New Mexico chili peppers, there's nothing all that magic about how Zingerman's puts those ingredients together, and I've started making my own New Mexico chicken sandwiches for weeknight dinners.
At the restaurant, the sandwich is served on grilled bread, but I have found that it's easier to make - and to eat - when I used hamburger or pretzel buns.
New Mexico Chicken Sandwich
Spicy mayonnaise adapted from Zingerman's Roadhouse recipe
1/2 cup Hellman's mayo
4 tablespoons Frank's Red Hot cayenne pepper sauce
2 medium cloves garlic, minced
1/8 teaspoon cumin
In a small bowl, mix all the ingredients well. Cover and refrigerate.
Avocado spread

1 avocado, halved, seeded and peeled
2 tablespoons chopped cilantro
lime juice
salt and pepper
In a medium bowl, mash the avocado and lime juice together until the avocado is smooth. Stir in the cilantro, salt and pepper. Cover tightly with plastic wrap and refrigerate.
Sandwich

2 teaspoons olive oil
4 boneless, skinless chicken fillets (I buy organic, free range)
4 slices Monterey jack cheese
4 leaves romaine, washed, dried and torn to fit the sandwich rolls
8 slices of bacon, cooked
1 large tomato, cored and thinly sliced
4 tablespoons canned minced hot green chilis (or a poblano pepper, roasted, skinned and seeded and divided into 4 parts)
4 hamburger or sandwich rolls (I used pretzel buns)
In a large skillet, heat the olive oil over medium high heat. Salt and pepper both sides of the chicken fillets, then saute them in the olive oil for approximately 5 minutes each side (until the chicken is cooked through an there is no more pink in the middle.)
While the chicken is cooking, slice the buns in half and spread a tablespoon of spicy mayonnaise on the cut side of each bun, top and bottom.
When the chicken is cooked through, turn off the heat and lay a slice of cheese on top of each fillet. Cover the pan and let it sit for a minute or two as the cheese melts on the chicken.
Build your chicken sandwiches from the bottom up, starting with two slices of bacon per sandwich. Layer on the lettuce and tomato, then use a spatula to carefully place the cheese-covered chicken breast on the bun. Top that with one quarter of the avocado spread per sandwich, then the hot green chilis. Finally, place the top half of the bun on top and serve immediately.
I like to serve with baked sweet potato fries. If there's any remaining spicy mayonnaise, it makes a great sweet potato fry dip.
Jessica Webster leads the Food & Grocery section for AnnArbor.com. Reach her at JessicaWebster@annarbor.com. You also can follow her on Twitter or subscribe to AnnArbor.com's email newsletters.