Posted on
Thu, Dec 29, 2011 : 4:10 a.m.
New Year's Eve Canape Assortment will be devoured quickly by party-goers
By Peggy Lampman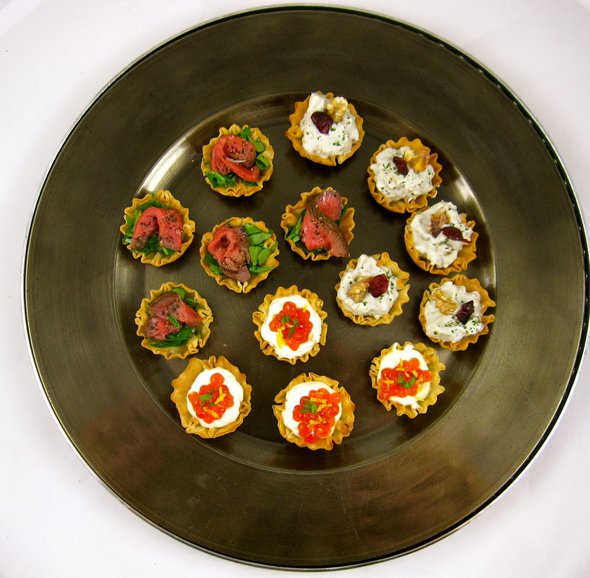 Peggy Lampman | Contributor

The new Holiday Cookbook answers all of your cooking needs. Strapped for time? Check out the well-tested Super-Simple section.
Looking for ideas for a splashy New Year's nosh? Here are my biased prerequisites regarding what an appetizer/finger food should accomplish to guarantee it is admired and then devoured at a party.
1. Said appetizer is visually appealing; the more it looks like a fancy wrapped present, the more it will be appreciated.
2. When I say finger food, I mean finger-thumb food. One should be able to eat the appetizer using their forefinger and thumb. The other hand has its own job — clutching the stem of a wine glass or champagne flute insuring it's at the ready, at all times.
3. The tantalizing morsel may be consumed in one bite and does not require a plate. A napkin, perhaps, but no plate. A plate requires two hands and one of the hands has its own responsibilities (see #2).
Technically, I'm referring to a canapé, which, according to Wikipedia, "... is a small, prepared and usually decorative food, held in the fingers and often eaten in one bite...The French started offering canapés to their guests in the 18th century, and the English adopted the practice at the end of the following century."
If you were one of those kids admonished for playing with your food, you will love fussing with canapé preparation. If swatches of fabric are tucked into your wallet in case you happen upon decorative accents that would coordinate with your color scheme, you may already have an arsenal of canapé recipes. However, if you're strictly a meat and potatoes person whose furnishings sole objective is of function and convenience, you may not get it. Indeed, I doubt you've read this far.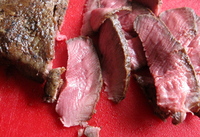 Some of the ingredients in the following recipes are pricey, to be sure; however, only tiny bits of the precious gems are required. For example, to make my Truffled Fillet and Watercress canapes, I used a half of a leftover filet mignon from the previous night's dinner. That piece yielded more than two dozen canapés. I have a small bottle of white truffle oil, purchased for $10 from
Fustini's
in Kerrytown, which comes equipped with an eyedropper so nary a drop is wasted. I used less than 3 tablespoons of salmon roe, which I purchased in the seafood department at Hiller's.
The canvas for your chef's d'oeuvres can be made from day-old bread, thinly sliced and cut into various shapes; they could be toasted or not. For ease, I always use pre-made phyllo or puff pastry shells, which may be found in the frozen section at most groceries in town. I used Athens Mini Fill Shells (15 to a box), which I purchased at Hiller's. It's easy to make your own creme fraiche, but I saved time by using pre-packaged Vermont Creme Fraiche, which is quite good.
In circles more fashionable than mine, canapés are often referred to as "amuse bouches," which translates to "mouth amusers," or — loosely — "a party in your mouth."
Whether you welcome 2012 with canapés and champagne or potato chips and Coke, let the good times roll. Happy New Year!
Truffled fillet and Watercress Canapés (yield: 15 canapés)
15 slivers rare beef, cut into pieces 2-inches long by 1/2-inch wide by 1/8-inch thick.
1 1/2 tablespoons plus one tablespoon truffle oil
2 teaspoons sherry or champagne wine vinegar, divided
15 phyllo shells, crisped then cooled according to package directions
2 cups watercress leaves, chopped into ribbons
Garnish: Cracked black pepper
Season beef with kosher salt and pepper, if needed. Whisk together 1 1/2 tablespoons truffle oil with 1 teaspoon vinegar. Let beef marinate at least 2 hours and up to 48 hours refrigerated in mixture. Whisk together remaining tablespoon truffle oil with remaining teaspoon of sherry vinegar. Toss with watercress ribbons and season with kosher salt and freshly ground pepper. Fill canapés with ribbons, top with beef sliver and garnish with a bit of freshly ground pepper.
Salmon Roe and Creme Fraiche Canapés (yield: 15 canapés)
1 tablespoon finely chopped scallions, plus extra for garnish
2 teaspoons finely chopped lemon zest, plus extra for garnish
1/2 cup creme fraiche
15 phyllo shells, crisped then cooled according to package directions
2 tablespoons plus 1 1/2 teaspoons salmon roe
Mix scallions and zest with creme fraiche; combine well. Place heaping 1/2 tablespoon of the creme fraiche mixture in each shell. Top with 1/2 teaspoon roe and garnish each canape with a small amount of scallion and zest.
Gorgonzola-Pear Canapés (yield 15 canapés)
1/4 cup Gorgonzola cheese, softened
1/4 cup cream cheese
1/2 ripe pear, peeled, cored and chopped into 1/4-inch dice
1/4 cup toasted walnuts, coarsely chopped, plus 15 extra small pieces for garnish
15 phyllo shells, crisped then cooled according to package directions
1/4 teaspoon finely chopped parsley (dried parsley fine)
15 dried cranberries (for garnish)
Mix cheeses with pear and walnuts; combine well. Fill each shell with mixture. Sprinkle a tiny bit of parsley over each canapé, then garnish with a piece of walnut and a cranberry.
My new web site (packed with holiday recipes) has recently been launched. (www.dinnerFeed.com)! I'm a real-time food writer and photographer posting daily feeds on my website and in the Food & Drink section of Annarbor.com. You may also e-mail me at peggy@dinnerfeed.com.