Posted on
Thu, Dec 27, 2012 : 4:20 a.m.
Looking for a festive New Year's Eve nosh? Try Eggnog Monte Cristos
By Peggy Lampman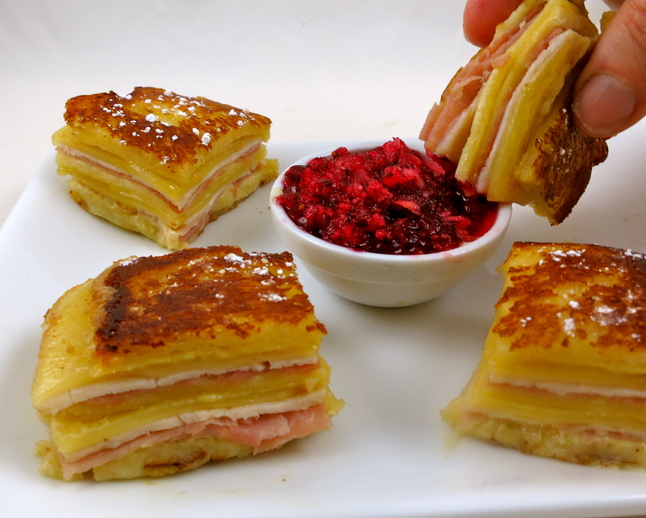 Peggy Lampman | Contributor

My Holiday Cookbook may be of assistance in your celebration strategies. Strapped for time? Check out the well-tested Super-Simple section.
Looking for a healthy dish to balance the exigencies of holiday cheer? Skip this article — this is not the recipe for you. But there are a few days left before the ball drops and resolutions for the New Year are made. So if you're looking for a festive nosh that will satisfy a sweet and savory tooth, these Eggnog Monte Cristos are engraved with your initials; an appropriate treat for ushering in 2013 with a flourish.

According to the website What's Cooking America, most food historians believe the Monte Cristo is a variation of a Croque Monsieur, the classic French ham and cheese sandwich grilled in butter. Indeed, the Monte Cristo seems to be a cross between a Croque Monsieur, Croque Madame (the same sandwich made with turkey) and a classic stacked club sandwich.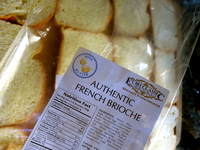 The following recipe is another variation of the Monte Cristo I found on FoodNetwork.com, appropriate for the holiday season; this recipe substitutes eggnog for milk and cranberry sauce for jam. I changed their recipe by using sweet and piquant Honeycup mustard instead of Dijon, brioche for the white sandwich bread, Jarlsberg for the cheese, and I omitted the nutmeg as it was incorporated into the eggnog I used.
I've found no clues as to why the sandwich was originally named after Monte Cristo, the island in the Tuscan archipelago made famous by Alexander Dumas' classic literary work, "The Count of Monte Cristo". But the plot of this literary masterpiece is filled with intrigue; twists and turns revolving around a hidden treasure found on Monte Cristo. I speculate it follows that a masterpiece of a sandwich should also wear this name.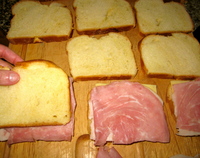 Hubby Richard swooned while devouring the creation. After I revealed the rich, hidden treasures buried in the ingredient list (butter, bread without a morsel of fiber, eggnog and sugar), he suggested I remake the sandwich using whole grain bread, skim milk and olive oil. Heaven forbid; that would defeat the purpose, rendering it an entirely different sandwich — a Huckleberry Finn, if you will. The Monte Cristo is a decadent nibble for an evening spent with decadent misbehavers.
Want a knockoff to please the kids? Use ballpark mustard instead of Honeycup, and substitute their favorite jam or jelly for the cranberry sauce. Or perhaps your polished palate wants to step up the New Year's nosh. The following Holy Grail of sandwiches follows techniques used in the recipe below, and would find itself at home paired with the most rarefied of champagnes. Here's what you'd do:
Omit the mustard-mayo combo and cranberry sauce, and on the bottom bunker of the sandwich substitute smoked salmon for the turkey and ham, and Gruyere for the Jarlsberg; spread a thin layer of caviar on the top bunker. Dunk the sandwich in half-and-half (instead of eggnog) before frying. And for the crowning glory, substitute lemon zest and snipped chives for the sugar dusting.
Note that all variations of the Monte Cristo taste better as the New Year's Eve festivities progress. If you've a more deliciously decadent sandwich up your sleeve than this, I'm all ears.
To view a recipe slide show, click here. Happy New Year!
Yield: 12 (rich) sandwich quarters

Chill Time: 30 minutes to 6 hours

Active Time: 25 minutes

Ingredients:
1 1/2 tablespoons mustard, Honeycup preferred

1 1/2 tablespoons mayonnaise, Hellman's preferred

9 slices square white sandwich bread, crusts removed; brioche or challah preferred

6 thin slices Swiss cheese, cut to fit bread slice, Jarlsberg preferred

6 thin slices roast turkey, cut to fit bread slice

6 thin slices ham, cut to fit bread slice

1/2 cup eggnog

3 tablespoons unsalted butter, divided

Confectioner's sugar, for dusting

Cranberry sauce, for dipping
Instructions:
1. In a small bowl, combine mustard and mayonnaise. On a large cutting board or counter top, lay out bread slices.

2. On 3 of the slices, spread a teaspoon of mustard mixture. Top each bread slice with 1 slice each of cheese, turkey and ham. Cover with another slice of bread and brush 1 teaspoon mustard mixture over bread, topping that with an additional slice of cheese turkey and ham. Spread remaining mustard mixture on remaining 3 slices of bread and place, mustard side down, on top of stacked sandwiches.

3. Wrap the sandwiches tightly in saran and refrigerate at least 30 minutes and up to 6 hours.

4. In a large, heavy-bottomed saute pan, melt 1 1/2 tablespoons butter over medium heat. Place eggnog in a dish large enough to fit the sandwiches; saturate both sides of each sandwich in eggnog. When butter is hot but not burning, place sandwiches in pan and fry on one side until golden brown, 3-4 minutes. Flip sandwiches, add remaining butter to pan, and fry until golden on the bottom side, an additional 3 minutes.

5. Cut sandwiches into quarters, dust with sugar and serve with cranberry sauce for dipping.
Peggy Lampman is a real-time food writer and photographer posting daily feeds on her website and in the Food & Grocery section of Annarbor.com. You may also e-mail her at peggy@dinnerfeed.com.