Posted on
Wed, Nov 2, 2011 : 4:29 a.m.
No-Brain Chicken Sausage and Whole Grain Soup
By Peggy Lampman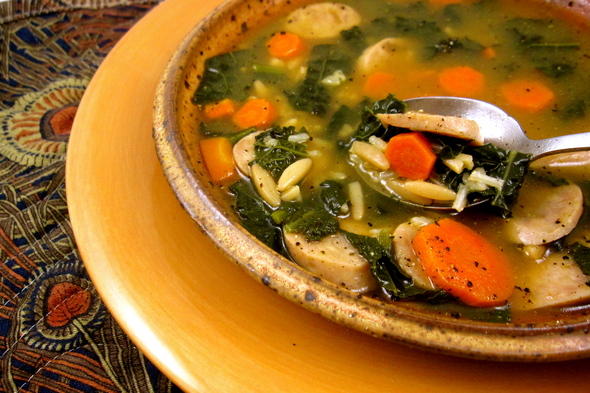 Peggy Lampman | Contributor

I'm tired of cooking. But I'm hungry, unfortunately. As well, my throat feels scratchy so I require low-maintenance sustenance which spells soup. Tonight I looked in my pantry and threw together a quickie brew.
There are several boxed items in this soup, so God bless that sweet Tuscan kale I planted in the spring. It's almost December and it's still been sending up leaves; at least I can add something fresh to the brew. Those leaves plus a couple of carrots who've established squatting rights in the vegetable bin.
I purchased Apple-Chicken pre-cooked sausage a couple of weeks ago from Trader Joe's; it's time for it to meet its maker. Yield: 3 main course servings Active Time: 10 minutes Simmer Time: 40 minutes
Ingredients
6 cups stock, turkey, chicken, beef or vegetable 1 package of Near East (6.25 ounce) Whole Grain Blend* 2-3 carrots, peeled and sliced into medallions 3-5 cups sliced kale 2-3 pre-cooked chicken sausage links.sliced into medallions
*Many Near East blends could be substituted. This box had a cooking time of apx. 35 minutes so adjust cooking time accordingly if using a different blend.
Directions
1. Bring stock to a boil; add grain blend and 1/2 seasoning package. Reduce heat to a simmer and cook 15 minutes. Add carrots and kale, and continue cooking another 10 minutes. 2. Add chicken sausage and cook until grains are tender, apx. 10-15 minutes. Taste and add remaining seasoning pack, if desired. Serve with several grinds of pepper.
My new web site (packed with holiday recipes) has recently been launched. (www.dinnerFeed.com)! I'm a real-time food writer and photographer posting daily feeds on my website and in the Food & Drink section of Annarbor.com. You may also e-mail me at peggy@dinnerfeed.com.