Posted on
Wed, Nov 30, 2011 : 10:26 a.m.
No-Brainer Chicken Sausage Soup with Whole Grains and Vegetables provides sustenance and warmth
By Peggy Lampman
Peggy Lampman | Contributor

This weather bites it. I'm in no mood to cook, but I'm hungry. And my throat feels scratchy, so my body craves sustenance and warmth. This criteria spells a simple supper soup for me.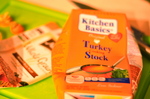 Too fried from the holidays to shop, I make do with what's on hand. A box of turkey stock and a box of Near East Whole Grain blends is a start. I've a couple of carrots who've staked squatter's rights in the fridge, lying next to to a package of pre-cooked apple-chicken sausage.
And bless that sweet Tuscan kale still sending off leaves, even with December at tomorrow's door. At least one living thing around here seems healthy and strong.
Yield: 3 servings
Active Time: 10 minutes
Simmer Time: 35-40 minutes
Ingredients
6 cups stock, such as chicken, turkey, beef or vegetable
1 box Near East Whole Grain blend* (enclosed seasoning package, optional)
2-3 carrots, cut into coins
4 cups chopped Tuscan kale, washed
3 pre-cooked sausage links, cut into coins (I used apple-chicken sausage)
*Other grain blends may be substituted; adjust cooking time accordingly.
Directions
1. In a medium-sized pan, bring stock to a boil. Add grain blend and 1/2 of seasoning package, if using. Let return to a boil, then reduce heat to simmer and simmer 15 minutes; then add carrots and kale.
2. Simmer an additional 15 minutes and add sausage. Cook until sausage is heated through and vegetables are tender, an additional 5-10 minutes. Taste then add remainder of seasoning package or kosher salt to taste. Serve with generous grinds from the pepper mill.

My new web site (packed with holiday recipes) has recently been launched. (www.dinnerFeed.com)! I'm a real-time food writer and photographer posting daily feeds on my website and in the Food & Drink section of Annarbor.com. You may also e-mail me at peggy@dinnerfeed.com.