Posted on
Wed, Mar 30, 2011 : 10 a.m.
Northside Grill is all that jazz
By Jessica Levine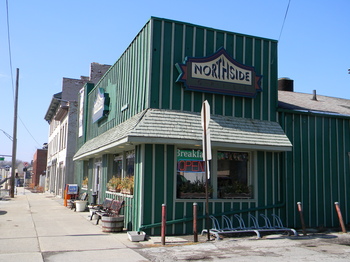 Jessica Levine I Contributor
Ann Arbor's Northside Grill grooves.
Rated one of AnnArbor.com's "BestOf" breakfasts, Northside Grill's modus operandi — the way owner Jim Koli and Dining Room Manager David Ruby swing around the dining room with pots of coffee, the smooth moves of the wait staff bearing platters of cheesy browns and oat-rolled cakes, the soft hum of the Tuesday brunch hour — beats like jazz. Breakfast spots like these are controlled, slow and honeyed like Thelonious Monk and French roast.
They echo the sounds and memories of the things we know best: Love, pain and the comforts of home.
Next to Koli himself, Ruby is the guy closest to the heart of Northside. He began as a waiter 16 years ago and hasn't turned back since. There must be a connection between the food he serves and the man.
"All the women in my family could really show you love with breakfast," said Ruby. "I also loved that my father and grandfather would cook a great breakfast, even though they didn't cook a lot at other times. And other times, Dad would take my brother and me to the tiny Whitehouse diner in Clare, where I grew up."
Jessica Levine I Contributor
Though a phrase bandied around the foodie blogosphere, the concept of comfort food — whether sausage and grits or a picnic lunch of tomato, butter and bread — is simple and honest, a stark contrast to the pomp of avant garde kitchens.
Koli proposes that his restaurant, located on the fringes of polite academia, offers the warm familiarity that chefs grilling up strip streak rare can't muster. Sashimi, bouillabaisse, lobster bisque — meals you'd find waiting in fine dining kitchen windows — won't truly be made to order. That would mess with the chef's vision, their master plan to blow away the palette with meticulous sophistication. Eggs and bacon are a different story.
"People like their hash browns lightly done, well done — it's all over the map. Because it is comfort food, they're used to having the food they order be manipulated," he explained.
"That's one of the challenges, here. We're mass-producing food, but people have a preconception of what the food should be like based on how they grew up. You go out for fine dining, and you order steak with Cajun cream sauce — what more do you want to it?"
It is incredibly true. Breakfast is nostalgia. Breakfast out customizes to that nostalgia like no lunch or dinner joint can. For Ann Arbor's disparate mix of starving students, townies and out-of-town visitors, a place that retrofits to the reminiscences of scrubbed kitchens and toast with jam means a heck of a lot.
Housed in an old dairy on Broadway, "There is some element of a neighborhood sanctuary," said Ruby. "Our proximity to the University of Michigan Health campus also brings us medical professionals and their patients from all over Michigan."
While proximity gets customers through the door, it is Koli's varied and unique menu that keeps 'em coming back. He offers both traditional favorites — two eggs, hash browns and toast is his number one seller — and dishes unique to stocky Midwestern tastes.
"Whole-bran pancakes work. We have a lot of vegetarian dishes and specialties like our Huevos Rancheros (eggs over a flour tortilla stuffed with refritos) and Morning Eggdition (eggs, diced tomatoes and ham)," said Koli.
"We tried dinner-type meals, and they didn't sell. We're known for our breakfast, we're known for being open from 7 a.m. to 3 p.m., 363 days a year."
That is just the way we like it here in the heartland. After night shifts on the ward, before bicycling into work — we are hungry. We're tired, traveling and seeking respite in runny eggs and stacks of flapjacks. We're looking for the smells and tastes of something idyllic, maybe even something lost.
"The atmosphere at the Northside is really about a soothing simplicity. It has a general hominess that people seem to like," said Ruby. "They like the little local touches, like the music from WEMU or our own jazz and classics collection."
Koli rings out a family at the register, and wraps a slice of homebaked strudel to go. Ruby caps off a regular's vanilla coffee before banging back through the double doors into the kitchen. Monk's ballad, "Ruby, My Dear," fills in the empty bits of din in the dining room, easing customers into well-fed complacency.
"I love the Northside for being more about the people who work and eat there, than the physical space," Ruby explained. "That's the atmosphere that people seem to care about."
Jessica Levine profiles the culture and history of Washtenaw County restaurants for AnnArbor.com. Contact her at levineeats@gmail.com.