Posted on
Tue, Feb 26, 2013 : 2 p.m.
Nutella chocolate chip muffins - a perfect snack paired with coffee or tea
By Mary Bilyeu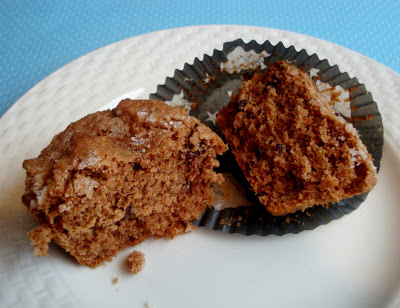 Mary Bilyeu | Contributor
Sometimes, you just want a muffin.
Muffins go perfectly with coffee, with tea, with cocoa, with milk. They're easy to make, easy to carry in a lunch bag. Really, they're an ideal food.
And how can you go wrong by throwing a bit of Nutella and some chocolate chips into the batter...? The only way to make these muffins better is by cutting them open and then schmearing extra Nutella onto them!
Nutella Chocolate Chip Muffins
1/3 cup butter-flavor shortening, at room temperature
1/4 cup brown sugar
1/4 cup + 3 tablespoons sugar
1/2 teaspoon kosher salt
1 teaspoon aluminum-free baking powder
1 egg
1/3 cup vanilla-flavor yogurt
1/3 cup Nutella
3/4 cup flour
1/4 cup white whole wheat flour
1/4 cup mini chocolate chips
Preheat oven to 350 degrees. Line a muffin tin with 9 paper liners.
In a large mixing bowl, cream together the shortening, brown sugar, 1/4 cup sugar, salt, and baking powder. Stir in the egg, yogurt, and Nutella. Stir in the flours, then stir in the chocolate chips.
Divide the batter among the lined muffin cups, then sprinkle tops with the remaining sugar.
Bake for 25 minutes, until a tester inserted into the center of the muffins comes out clean. Let muffins cool on a rack.
Makes 9 muffins.

Mary Bilyeu writes for AnnArbor.com on Tuesdays, Wednesdays, and Fridays, telling about her adventures in the kitchen - making dinner, celebrating holidays, entering cooking contests, meeting new friends ... whatever strikes her fancy. She is also on a mission to find great deals for her Frugal Floozie Friday posts, seeking fabulous food at restaurants on the limited budget of only $5 per person. Feel free to email her with questions, comments, or suggestions: yentamary@gmail.com.

Go visit Mary's blog — Food Floozie — where she enthuses and effuses over all things food-related; and look for her monthly articles in the Washtenaw Jewish News. "Like" her on Facebook, or send a tweet on Twitter, too.

The phrase "You Should Only Be Happy" (written in Hebrew on the stone pictured in this post) comes from Deuteronomy 16:15 and is a wish for all her readers - when you come to visit here, may you always be happy.