Posted on
Thu, Jun 9, 2011 : 4:25 a.m.
Omelet with Asparagus, Morels and Goat Cheese
By Peggy Lampman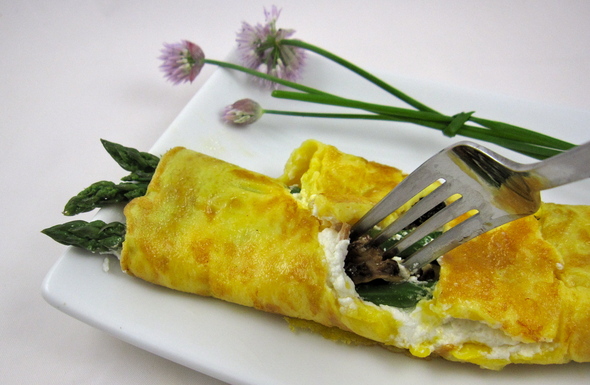 Peggy Lampman | Contributor

Peggy Lampman's Thursday dinnerFeed

Like so many ubiquitous edibles, which survive the shifting vagaries of popular culture — pizza, hamburgers, even Caesar salad — many nationalities stake claim to their origin and preparation. The lore, hype and speculation surrounding the omelet are no exception.
One version, according to Wikipedia, reads as would a sixth-grade history text. "...When Napoleon and his army were traveling through the south of France they decided to rest for the night near the town of Bessieres. Napoleon feasted on an omelet prepared by a local innkeeper that was such a culinary delight that Napoleon ordered the townspeople to gather all the eggs in the village and to prepare a huge omelet for his army the next day."
I have no towns to conquer or villages to feed, just myself and a hungry husband. Besides, huge omelets, like Napoleonic armies, are often tough, a less etherial bite than an omelet made with a deft hand and two eggs.
The techniques behind constructing an omelet can be as simple or complex as the person wielding the saute pan. One could simply whisk together some eggs, pour them into a greased skillet, add fillings or not, fold and "Voila". That very omelet could legitimately call itself an omelet even if didn't contain so much as a sprig of dill.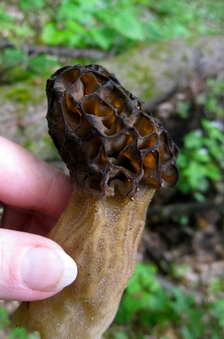 But it's such fun pulling back the folds of an airy omelet, like delicate wrapping paper, and discovering a gift of seasonal, savory goodies. It was a treat using Michigan eggs, goat cheese, asparagus, chives and morels in the following recipe. We were lucky to find the morels in last week's hunt, but any mushroom would be a fine substitute.
There is much debate regarding ways to achieve that classic omelet of perfection. Should water, cream or nothing be added to the eggs; should the eggs be lightly beaten with a fork or whisked until frothy; should the heat be high, low or turned off; should the omelet be folded or rolled.
And who would guess that the cook's fortitude would figure its way into omelet preparation. "You must have the courage to be rough or the eggs will not loosen themselves from the bottom of the pan." writes Julia Child in Mastering the Art of French Cooking. After reading Julia Child's13 page, well-illustrated treatise on making an omelet, the only certainty about undertaking a classic French omelet preparation is it's not a recipe for the cowardly.
The spring issue of Fine Cooking's CookFresh magazine offers up a 3-page pictorial commentary on how to cook the perfect gruyere omelet. It, too, is a rolled omelet but the magazine's techniques are a bit easier to master than Julia's; it's a recipe for the fearful. It only, for instance, requires a firm tap of the pan instead of Julia's "... 4 or 5 sharp blows on the handle with your right fist."
I followed Fine Cooking's instructions in the following recipe. The critical tools necessary for success, according to Fine Cooking, are an 8-inch nonstick skillet and a silicone spatula. (A 6 or 7-inch nonstick skillet, I'm sure, would also be fine.)
Have I finally mastered the omelet? Emphatically not. According to Fine Cooking, "A classic French omelet is pale on the outside (no browning at all) and creamy — ever so slightly undercooked inside."
My omelet was patched in a buttery golden brown goodness; I prefer more cooked, less creamy eggs. My omelet was also rolled a bit thin, not the "smooth, gently swelling, golden oval" Julia prefers. But it was tender, thin and light; to my palate, a masterful eating experience. Quote Michelangelo: "The true work of art is but a shadow of the divine perfection."
The instructions in the following recipe were adapted from The Best of Fine Cooking's CookFresh 2011 magazine.
Yield: 1 omelet
Time: 10 minutes
Ingredients
1/2-1 tablespoon unsalted butter
2 extra-large eggs
2 tablespoons soft goat cheese, room temperature
3-4 blanched* asparagus stalks (depending on thickness), trimmed to 6 inches long
3-4 morel mushrooms halved (any fresh mushroom may be substituted)
1 teaspoon snipped chives, plus chive blossom garnishes
*Blanch asparagus by cooking in salted, boiling water 30 seconds to 2 minutes, depending on the thickness and freshness of the stalks.
Directions
Melt 1/2 tablespoon of butter in an 8-inch nonstick skillet over medium heat. Saute mushrooms in butter 1-2 minutes or until just limp. Meanwhile, in a small bowl, lightly beat the eggs, 1/8 teaspoon kosher salt, and a couple of grinds of fresh pepper until the eggs are frothy.
Remove mushrooms and any brown mushroom flecks from the pan and reserve. If the mushrooms soaked up all of the butter, add additional butter to the pan and melt over medium heat. Pour the eggs into the skillet and let them sit, undisturbed, until they begin to set around the edges, 30-60 seconds. Stir the eggs quickly with a silicone spatula while shaking the pan back and forth until the eggs have set on the bottom but are still undercooked on top, 45 to 60 seconds. (If you prefer your egg more cooked, cook an additional 15 seconds or until eggs are the desired level of doneness.)
Turn off the heat and give the pan a few shakes. Tap it once firmly on the stove to smooth the bottom of the omelet (or a heatproof cutting board if your stovetop is glass.)
Spoon the goat cheese down the center third of the omelet and spread in a thick, 1-inch line. Place asparagus on top of the line, then sprinkle with reserved morels and chives. Let sit for a minute.
Fold a third of the omelet over the asparagus-cheese mixture. Shake the unfolded third of the omelet up the side and slightly out of the pan. Invert the pan onto a plate to complete the final fold of the omelet. It should be folded in three, like a letter. Serve immediately.
Looking for a specific recipe? Click here for dinnerFeed's recipe search engine; type the recipe or ingredient into the search box. I am a real-time food writer and photographer posting daily feeds on my website and in the Food & Drink section of Annarbor.com. You may also e-mail me at peggy@dinnerfeed.com.