Posted on
Wed, Dec 7, 2011 : 8 a.m.
Orange chocolate chip cookies are easy to make but have a sophisticated air
By Mary Bilyeu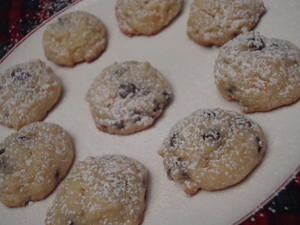 Mary Bilyeu, Contributor
I adore orange marmalade! The sweet-tart combination, the texture, the gorgeous color ... I love all of it.
I have two favorite ways to eat marmalade:
1) With peanut butter in a peanut butter and jelly sandwich, which my friend Susie recently served to me in charming finger sandwiches at afternoon tea without even knowing how much I love this combination!
2) In these cookies, where the flavors of the orange and the chocolate chips marry to form a perfect union.
With only a few basic ingredients, these cookies can be mixed, baked, and ready to give or serve with virtually no notice. But they're so delicious and fragrant, with their amazing citrus aroma, that they seem very sophisticated even though they're so simple.
Orange Chocolate Chip Cookies
1/3 cup butter
2/3 cup sugar
1 egg
6 tablespoons orange marmalade
1-1/2 teaspoons baking powder
1/2 teaspoon kosher salt
1-1/2 cups flour
1/3 cup mini chocolate chips
confectioners' sugar, for dusting
Preheat oven to 350 degrees. Lightly grease a baking sheet
In a large bowl, combine butter, sugar and egg; stir in marmalade, baking powder, and salt. Stir in the flour and the chocolate chips.
Drop batter by measuring tablespoons onto the baking sheet and bake for 10-12 minutes until lightly golden on the edges. Remove to a rack and cool completely.
Dust with confectioners' sugar before serving.
Makes 48 cookies.
Don't forget these oldies but goodies — they're fabulous!

Mary Bilyeu has won or placed in more than 60 cooking contests and writes about her adventures in the kitchen. She was thrilled to have her post about Scottish Oatmeal Shortbread named as one of the daily "Best of the Blogs" by the prestigious Food News Journal.
Go visit Mary's blog — Food Floozie — on which she enthuses and effuses over all things food-related. Her newest feature is Frugal Floozie Friday, seeking fun and food for $5 or less ... really! Feel free to email her with questions or comments or suggestions: yentamary@gmail.com.
The phrase "You Should Only Be Happy" (written in Hebrew on the stone pictured in this post) comes from Deuteronomy 16:15 and is a wish for all her readers as they cook along with her ... may you always be happy here.