Posted on
Fri, Jul 26, 2013 : 4:16 a.m.
Orzo with Shrimp, Cucumbers & Feta - winning combination for a summer pasta salad
By Peggy Lampman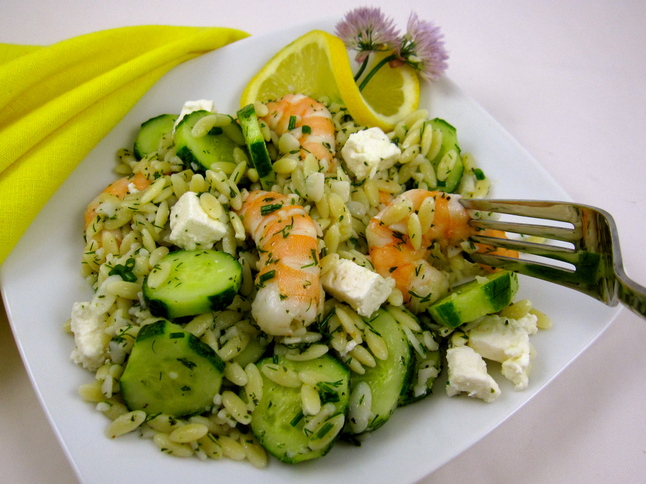 Peggy Lampman | Contributor

To receive my lastest dinnerFeed posts
by email, sign up here.
Five stars and 432 reviewers averaging a five-star review can't be wrong; Ina Garten's recipe for Roasted Shrimp and Orzo is a delicious pasta salad.
A friend recommended I try the recipe, and it's a keeper. I switched up the ingredients and amounts a bit to accommodate my needs and palate, but it's essentially her inspiration. If you're craving a light pasta salad, you can't go wrong.
Time: 30 minutes (half of which I used to peel and de-vein the roasted shrimp)
Yield: Approx. 8 cups
Ingredients
1 cup orzo pasta (rice-shaped pasta)
1/4 cup freshly squeezed lemon juice (2 juicy lemons)
1/4 cup extra virgin olive oil, plus extra for drizzling over shrimp
1 pound large, raw shrimp
1/4 cup snipped chives
1/4 cup minced fresh dill
1/4 cup chopped fresh flat-leaf parsley
3 (5-inch) small cucumbers, striped with a vegetable peeler and cut into 1/4-inch coins
5 ounces feta cheese*, cut into large dice
Instructions
1. Preheat oven to 400 degrees.
2. Bring a large pot of salted water to a boil. Add orzo and cook according to package directions, stirring occasionally, or until just tender, 9-15 minutes. Drain and pour into a large bowl. Whisk together the lemon juice and 1/4 cup olive oil. Pour over hot pasta. Stir and season to taste with kosher salt and freshly ground pepper.
3. Meanwhile, place the shell-on shrimp on a sheet pan, drizzle with olive oil, and season with salt and pepper. Toss to combine and spread out in a single layer. Roast on middle rack of oven for 5 to 6 minutes, or until shrimp are cooked through, taking care not to overcook.
4. When shrimp are cool enough to handle, peel and devein. Add the shrimp to the orzo and then add the chives, dill, parsley and cucumber. Toss well. Add the feta and stir carefully. Season to taste with salt and pepper. Set aside at room temperature for 1 hour to allow the flavors to blend, or refrigerate overnight. If refrigerated, taste again for seasonings and bring back to room temperature before serving.
*I prefer French feta, such as Valbreso, in this recipe.
Peggy Lampman is a real-time food writer and photographer posting daily feeds on her website and in the Food & Grocery section of Annarbor.com. You may also e-mail her at peggy@dinnerfeed.com.