Posted on
Tue, Nov 1, 2011 : 5:59 a.m.
Oven roasted root vegetables with Indian spices satisfies autumn cravings for savory carbs
By Anne Savage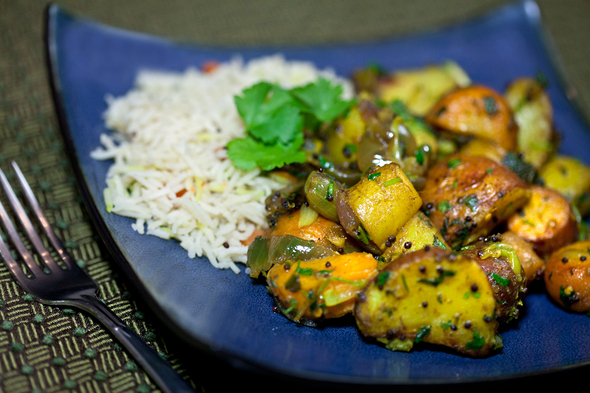 Anne Savage | Contributor
I don't know about you, but when the temperature drops I crave more substantial savory foods like mac 'n cheese, creamy soups and of course anything made with
potatoes
. Maybe it's our bodies way of trying to fatten up for winter, which is something I don't need, but I'm still having trouble resisting rich foods with lots of comforting carbs.
To satisfy this craving, how about a bake with lots of root vegetables and seasoned with savory Indian spices? It's actually a very easy meal but requires a few spices that you might not have on hand, like dried chiles, and black mustard seed. You can get them at most Asian or Indian markets. I found both at ZZ's Produce at 4092 Packard St. in Ann Arbor. They are a must for Indian cuisine.
A side note on black mustard seed: When I was first learning about this spice I looked it up on Wikipedia and, under "history", it said this:
"The earliest reference to mustard is in India from the story of Buddha in the 5th century BCE. Gautama Buddha told the story of the grieving mother (Kisa Gotami) and the mustard seed. When a mother loses her only son, she takes his body to the Buddha to find a cure. The Buddha asks her to bring a handful of mustard seeds from a family that has never lost a child, husband, parent or friend. When the mother is unable to find such a house in her village, she realizes that death is common to all, and she cannot be selfish in her grief."
I just thought that was cool.
Click here for the complete text on The Mustard Seed.
All of the other ingredients should be available regular grocery stores. You can use canola oil, but ghee gives it a more authentic Indian flavor, and I highly recommend it. As for the vegetables, it's up to you. I like the combination of carrots, potatoes and onions, but you can use whatever root vegetables like. Have fun with it. Use different colored potatoes or carrots as well as red and white onions.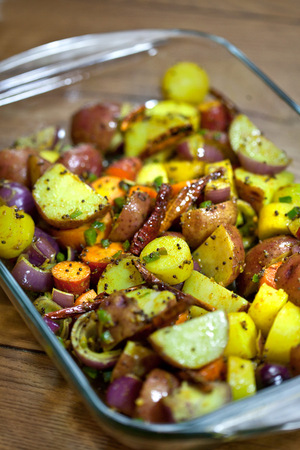 Anne Savage | Contributor
Oven roasted root vegetables with Indian spices
Ingredients
2 1/2 tablespoons ghee or canola oil
~8 cups root vegetables (potatoes, carrots, onions, parsnips, rutabagas, and turnips)
2 teaspoons black mustard seeds
8 dried red chiles
2 Tablespoons minced peeled fresh ginger
4 garlic cloves, minced
1-2 jalapeño, seeded and minced
2 teaspoons salt
1 teaspoon ground turmeric
1 teaspoon Garam Masala
1/2 cup chopped fresh cilantro
1/2 cup chopped fresh mint
1 Tablespoon fresh lime juice
1-2 cup vegetable broth (optional)
Preparation
If you are using potatoes or rutabagas in the bake, I recommend that you boil them first for about 10 minutes. Set aside to cool.
Cut your vegetables into 1-2 inch size chunks, keeping them relatively the same size. Put them in a large mixing bowl and set aside.
Preheat oven to 400 degrees.
Heat ghee large skillet over medium-high heat. Add mustard seeds and chiles and cook 1 1/2 minutes or until seeds begin to pop. Reduce heat to medium-low. Add ginger, garlic, and jalapeño to the pan; cook 1 minute, stirring constantly. Stir in the salt, turmeric, and Garam Masala; cook 1 minute, stirring constantly. Add spice mixture to potatoes, tossing to coat. Arrange potato mixture in a single layer in a 13 x 9-inch baking dish.
For an extra moist bake, add a cup or two of vegetable broth to the baking dish before putting it in the oven. This will also make a nice gravy or au jus that you can pour over the bake when it is finished
Bake at 400 degrees for 40 minutes or until potatoes are tender and browned, stirring every 10 minutes.
Stir in the cilantro, mint, and lime juice. Serve with basmati rice and/or raita.*
* Raita is Indian condiment made with yogurt and is traditionally seasoned with cilantro, ground cumin, mint and red chili powder but can also can include vegetables like cucumber and tomato. It is used as an "antidote" to spicy food, to cut the heat.
For more photos or to print this recipe, click here, or go to The Savage Feast for additional recipes or to subscribe. You can also follow The Savage Feast on Facebook!
Anne Savage is a professional photographer living in Dexter. She specializes in food photography and is an experimental cook and avid gardener. Much of her food photography and many of her recipes can be found at http://thesavagefeast.com.