Posted on
Mon, Dec 19, 2011 : 10 a.m.
More than 12,000 people enter for a chance to win a total of $36,640 in free groceries
By AnnArbor.com Staff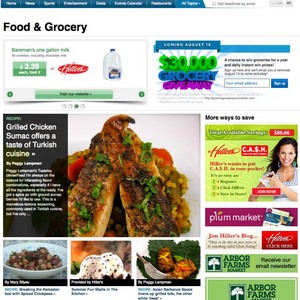 In August 2011, AnnArbor.com launched a new
Food & Grocery
section featuring the latest grocery deals, recipes, news about the local food and beverage scene and interesting food articles from around the web.
And on Aug. 15, readers were invited to play the $30,000 Grocery Giveaway sweepstakes. The sweepstakes ended last night at 11:59 p.m.
Those who entered had the chance to win daily instant prizes of $10, $100 or $250 instant win grocery gift cards to their favorite grocery store, including Arbor Farms Market, Hiller's, Polly's Country Market, Meijer and Kroger.
Each day players entered, they received an additional entry into the random grand prize drawing for a $10,000 grocery gift card to their favorite grocery store. According to the USDA, that buys groceries for a whole year for the average family of four.
A total of 12,484 people registered, each playing an average of 20.4 times.
So far, all of the instant win prizes have been awarded. A total of 1,260 gift cards were awarded, amounting to $26,640 in instant win grocery gift cards to our local grocery stores.
There is just one more prize to go. One lucky winner will be randomly drawn to win the $10,000 grand prize grocery gift card. The drawing will take place today, but the potential winner will need to be verified by our third party promotions administrator before the winner can be announced.
We'll let you know if your name is drawn, and once we have a verified winner, we'll announce it here in the Food section.