Posted on
Fri, Jan 25, 2013 : 4:55 a.m.
Oxtail Soup - marbled fat and marrow create broth that's rich with flavor
By Peggy Lampman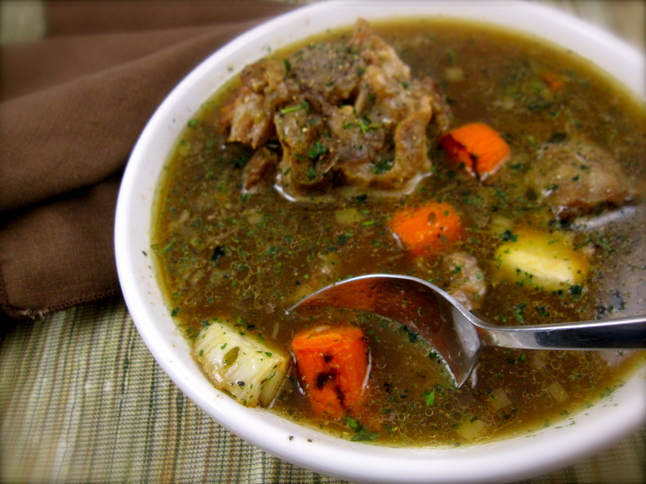 Peggy Lampman | Contributor

My dinnerFeed web site is a lean,
mean fighting machine!
To receive my lastest dinnerFeed posts
by email, sign up here.
Have you ever rummaged through packages at a meat counter, and wondered what would you cook with oxtails, and where the heck do they get the oxen?
Ox tails are any beef tails when used in oxtail soup; according to wikipedia "...The use of the word "ox" in this context is a legacy of nomenclature; no specialized stock of beef animals are used."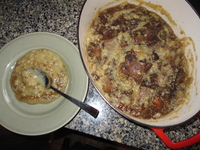 One of the best ways to enjoy oxtails are when making soup. The tails are marbled in fat, the sections are rich in marrow, so the broth is incredibly dense and rich with flavor. So divine, but not necessarily a soup for folks avoiding fat in their diets.
I make oxtail soup a day in advance of serving so I can skim off much of the fat, which accumulates to the top after the soup is chilled. If desired, remove meat from ox tails and return meat to soup before serving. I prefer serving the soup with the bone.
Time: Approx. 4 hours (mostly unattended) plus an overnight chill
Yield: 3-4 servings
Ingredients
1 1/2-2 pounds oxtails with separated joints
Extra-virgin olive oil, as needed
1 medium yellow onion, chopped
1 celery rib, chopped
1 large carrot, chopped
3 cups beef stock
1 cup red wine
3 whole cloves garlic, peel intact
One bay leaf
Pinch of thyme
2 carrots, cut into 1-inch pieces
2 parsnips, cut into 1-inch pieces
2 turnips or 1 small fennel bulb, cut into 1-inch pieces
Instructions
1. Pat dry oxtails with paper towels. Season oxtails with kosher salt and freshly ground pepper. Heat 1 tablespoon of olive oil on medium to medium high heat in a heavy-bottomed pan or Dutch oven. Sear the oxtails in on all sides, about 15 minutes, or until golden brown. Remove oxtails to a plate, and reserve.
2. Add the onion, carrot and celery to the pan. Cook until onions are translucent, about 5 minutes, stirring occasionally. Return the oxtails back to the pan. Add the garlic cloves, stock, wine, bay leaf and thyme. Bring to a slow boil, then reduce heat to low. Cover and cook for 3 hours, until meat is fork tender. (At this point, refrigerate overnight to allow the fat to coagulate at the top of the soup. Skim the fat, then proceed with the recipe.)
3. An hour before reheating soup, preheat oven to 400 degrees. Toss carrots, parsnips and turnips in olive oil in a roasting pan. Season with kosher salt and freshly ground pepper. Roast vegetables for 35-45 minutes, or until browned and cooked through.
4. While vegetables are roasting, remove oxtails from soup, then pour the oxtail through a mesh strainer into a bowl, using a rubber spatula to press against the vegetable solids caught in the strainer. Discard the solids. Return the broth to the pan and simmer until reduced by half. Then return oxtails to pot, and add the roasted vegetables to the pot. Heat over low heat 30 minutes.
Peggy Lampman is a real-time food writer and photographer posting daily feeds on her website and in the Food & Grocery section of Annarbor.com. You may also e-mail her at peggy@dinnerfeed.com.