Posted on
Tue, Feb 16, 2010 : 11 a.m.
It's Pannenkoeken Dag - celebrate with your favorite pancake
By Jessica Webster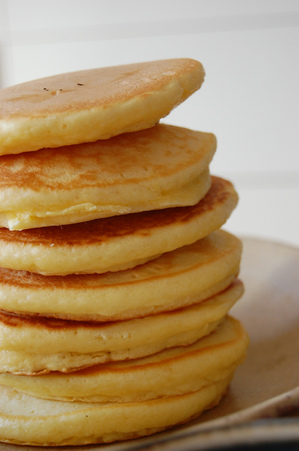 Photo by Flickr user potaufeu
The Dutch have long had a love affair with the pancake, from the bite-sized, puffy
poffertjes
to the plate-sized sweet or savory pancakes often eaten for dinner. But the day the Dutch really get their pancake on is Shrove Tuesday, when they celebrate Pannenkoeken Dag.
I lived in the southern, primarily Catholic part of The Netherlands as a teen, and I long speculated that the pancakes on Pannenkoeken Dag were consumed as a way to soak up the copious amounts of alcohol ingested during
Carnaval
, the Dutch equivalent of Mardi Gras. Carnaval is a 4-day celebration of excess, marked by parades, circuses, costumes and drinking - lots and lots of drinking - leading up to the beginning of Lent. In truth, though, the motivation behind Pancake Day is the same as the Polish
Paczki Day
: an opportunity to indulge in sweets and fats before the austere Lenten season.
Dutch pancakes (or pannenkoeken) are usually large and somewhat eggy, and feature everything from fruit to a thick syrup (stroop) to more savory flavors like cheese and onions. My favorite pancake joint, located in the historic walled city of Heusden, served the most amazing mushroom, gouda and onion pancakes I've ever tasted.
This Pannenkoeken Dag, I'll be celebrating with my favorite blueberry pancake recipe. One of the things I love about this recipe is the texture that comes from the cornmeal and the richness that is added by the yogurt. I've also had great success in making these celiac-friendly by replacing the wheat flour with rice flour. Thanks to the corn meal, the grittier texture of the rice flour isn't noticeable the way it can be in baked goods (rice flour brownies are really kind of gross, in case you were wondering).

Blueberry Pancakes
from Dorie Greenspan's "Pancakes: From Morning to Midnight "
1 cup all-purpose flour (rice flour can be substituted)
½ cup yellow cornmeal (preferably stone-ground)
¼ cup sugar
1 tsp baking powder
¼ tsp baking soda
¼ tsp cinnamon
¼ tsp salt
½ cup plain yogurt
½ cup milk
2 large eggs
4 tbsp unsalted butter, melted
1 tsp grated orange zest
¼ tsp pure vanilla extract
1 cup blueberries (you can use frozen, but don't thaw before using)
In a bowl, whisk the flour, cornmeal, sugar, baking powder, baking soda, cinnamon, and salt together.
In another bowl, whisk the yogurt, milk, eggs, melted butter, orange zest, and vanilla together; mix well.
Pour the liquid ingredients over the dry ingredients and mix with a whisk, stopping when everything is just combined (don't worry if batter is a bit lumpy).
With a rubber spatula, gently fold in the blueberries (batter will be very thick).
Lightly butter, oil, or spray your griddle or skillet.
Preheat over medium heat, or if using an electric griddle, set to 350°.
Spoon ¼ cup batter onto griddle for each pancake and use a spatula or the back of a spoon to lightly press the batter into rounds.
When the undersides are golden, flip the pancakes over and cook until the other sides are light brown (because the pancakes are thick, they need a bit more time to bake and you may not get the normal speckling of holes).
Serve immediately. Makes 10 pancakes.
Jessica Webster coordinates Food & Drink and Books coverage for AnnArbor.com and is part of the Community Team. Contact her at jessicawebster@annarbor.com.