Posted on
Tue, Dec 20, 2011 : 10:20 a.m.
Pasta Carbonara is extra-special with homemade (locally purchased!) pancetta
By Peggy Lampman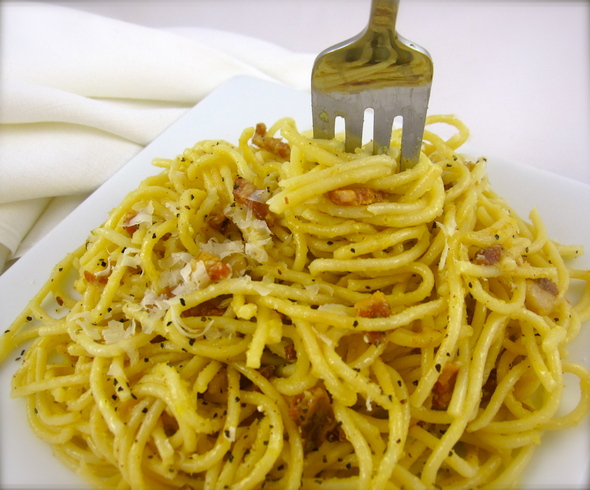 Peggy Lampman | Contributor

The new Holiday Cookbook answers all of your cooking needs. Strapped for time? Check out the well-tested Super-Simple section.
Guiliano Bugialli, cookbook author and veritable master of Italian cuisine, specifically instructs not to use bacon when preparing Pasta Carbonara. "Pancetta", he writes in his carbonara recipe headnote, "of course, is not bacon, because it is not smoked; do not substitute bacon."
Through the years I've taken several of Bugialli's cooking classes, and he's achieved "guru" status with me. I don't take many liberties with his recipes; therefore, I don't substitute bacon for pancetta. But where to shop for pancetta. Well, it's Ann Arbor, after all, so there are many options.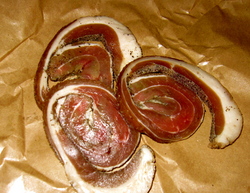 My latest discovery was finding out Sparrow Meats in Kerrytown makes their own pancetta. I was thrilled; I haven't had pancetta this thick, juicy and meaty since traveling in Italy. I am so excited about this, I expect I will using this again, sometime soon.
And of course a wonderful Pasta Carbonara is the first thing to come to mind, when optimizing the flavor of homemade pancetta, an ingredient found in so many classic Italian holiday favorites.
Yield: 4 servings
Time: 30 minutes
Cost: Approx. $9.50
Recipe adapted from Guiliano Bugialli's "Spaghetti alla Carbonara" (The Fine Art of Italian Cooking, 1977)
Ingredients
1 tablespoon extra virgin olive oil
8 ounces pancetta, cut into small pieces
1 tablespoon minced garlic
1/2 teaspoon red pepper flakes
2 large eggs, whisked
1 cup grated Parmigianno Reggiano plus additional for grating*
1 pound spaghetti
*Pecorino Romano may be used as a substitution, or in addition to, the Parmesan.
Directions
1. In a heavy-bottomed saute pan over low heat, heat the olive oil and saute the pancetta, garlic and red pepper flakes. Cook slowly, stirring occasionally, until most of the fat is rendered from the pancetta and it is lightly browned, about 15 minutes.
2. While pancetta is cooking, bring a large pot of salted water to a boil. Cook the spaghetti according to package directions, until it is tender but firm.
3. Warm a large bowl by filling it with hot water; drain water, then whisk the egg and cheese together in heated bowl. After spaghetti has just been drained, immediately toss hot spaghetti with the egg and cheese mixture, pancetta and any fat remaining in the saute pan.
4. Season with kosher salt and freshly ground pepper. Pass additional Parmesan and the pepper grinder.
My new web site (packed with holiday recipes) has recently been launched. (www.dinnerFeed.com)! I'm a real-time food writer and photographer posting daily feeds on my website and in the Food & Drink section of Annarbor.com. You may also e-mail me at peggy@dinnerfeed.com.