Posted on
Tue, Nov 1, 2011 : 8 a.m.
Pasta in pesto cream sauce is simple but sophisticated dish
By Mary Bilyeu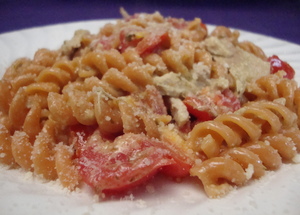 Mary Bilyeu, Contributor
This elegant dish is actually a cobbling together of scraps — a little of this, a little of that, put it all together to make something amazing!
I had leftover tomato rotini sitting in a baggie in the pantry. I had leftover cream from making chocolate truffles. I had tidbits of chicken sitting in the refrigerator. I had a few tomatoes still looking for a purpose in life. Why leave each of these ingredients to feel forlorn, when they could be transformed into something delicious?
If you have macaroni instead of rotini, that's okay. If you have ham instead of chicken, it'll be fine. If you have sun-dried tomatoes rather than fresh ones, don't worry. Whatever bits and pieces you need to use up, this sort of dish is very forgiving.
Just cook the pasta, then stir everything else together into a sauce. Your meal will be simple, sophisticated, and sublime.
Pasta in Pesto Cream with Chicken and Tomatoes
1 cup rotini
1 tablespoon butter
1/2 cup chopped chicken
8 grape tomatoes, quartered
2 tablespoons pesto
pinch of kosher salt
pinch of freshly ground black pepper
1/4 cup cream
parmesan, for serving
Prepare rotini according to package directions.
Meanwhile, melt the butter in a small skillet over medium heat. Add the chicken and tomatoes; saute 2 minutes. Stir in the pesto, salt and pepper; cook for 2 minutes. Stir in the cream and cook for 2 minutes.
Drain the pasta, and pour the sauce over it; toss to combine. Serve immediately, topped with parmesan.
Serves 2.

Mary Bilyeu has won or placed in more than 60 cooking contests and writes about her adventures in the kitchen. She was thrilled to have her post about Scottish Oatmeal Shortbread named as one of the daily "Best of the Blogs" by the prestigious Food News Journal.
Go visit Mary's blog — Food Floozie — on which she enthuses and effuses over all things food-related. Her newest feature is Frugal Floozie Friday, seeking fun and food for $5 or less ... really! Feel free to email her with questions or comments or suggestions: yentamary@gmail.com.
The phrase "You Should Only Be Happy" (written in Hebrew on the stone pictured in this post) comes from Deuteronomy 16:15 and is a wish for all her readers as they cook along with her ... may you always be happy here.