YOU SHOULD ONLY BE HAPPY ....
recipe:

Pasta with pea shoots - dish's fresh flavor, splash of color make it perfect to celebrate spring

Posted on Mon, Apr 16, 2012 : 8 a.m.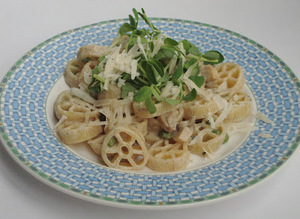 Mary Bilyeu, Contributor
Passover ended Saturday at sundown — no more matzah for another year!
All the forbidden foods — breads, cakes, cookies, corn, lentils, everything — can be enjoyed again. Pizza is a very common treat for getting reacquainted with yeast and light, airy baked goods. Pasta is another food that seems so simple and ordinary, but which takes on a new aura of importance when it becomes taboo.
So here is a lovely, rich, creamy, delicious dish to celebrate the end of the matzah-fest. I found the pea shoots at the People's Food Co-Op and simply couldn't resist buying them. A splash of color, tender sweet fresh flavor, and a true celebration of spring!
Pasta with Mushrooms and Pea Shoots
8 ounces pasta
4 tablespoons butter
1 teaspoon kosher salt
1/4 teaspoon freshly ground black pepper
zest and juice of 1 lemon
8 ounces mushrooms, halved, sliced
1/2 cup half-and-half
1/2 cup skim milk
2/3 cups peas
1 cup pea shoots (available at specialty markets)
parmesan, for serving
Prepare pasta according to package directions.
Meanwhile, melt butter, salt, pepper, zest, and juice in a large skillet over medium-low heat. Add mushrooms and saute for 2 minutes, until softened.
Add half-and-half and milk; bring just to a boil, then lower heat to medium-low and cook for 5 minutes until sauce is thickened a bit. Stir in peas.
When pasta is ready, drain it and add it to the sauce; stir to coat. Place pasta onto a serving platter and top with the pea shoots and parmesan.
Serves 4.

writes about her adventures in the kitchen - making dinner, celebrating holidays, entering cooking contests ... whatever strikes her fancy. She is also on a mission to find great deals for her Frugal Floozie Friday posts, seeking fabulous food at restaurants on the limited budget of only $5 per person. Feel free to email her with questions or comments or suggestions: yentamary@gmail.com.
You should also visit Mary's blog — Food Floozie — on which she enthuses and effuses over all things food-related.



The phrase "You Should Only Be Happy" (written in Hebrew on the stone pictured in this post) comes from Deuteronomy 16:15 and is a wish for all her readers - when you come to visit here, may you always be happy.