Posted on
Fri, Mar 1, 2013 : 4:18 a.m.
Pasta with Spicy Eggplant Sauce makes a satisfying vegetarian supper
By Peggy Lampman
Peggy Lampman | Contributor

My dinnerFeed web site is a lean, mean fighting machine! To receive my lastest dinnerFeed posts by email, sign up here.
This spicy, meaty vegetarian sauce is the perfect antidote to a wintry day; I've been making variations of this recipe for 30 years, especially when I want to lend spice to my day. After Wednesday's power outage followed by thick quilts, take-out food and bitter coffee, I need to inject some spice.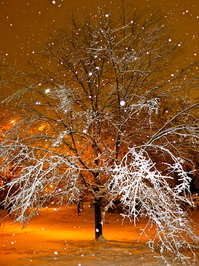 The recipe began life as a casserole when I owned the
Back Alley Gourmet
. We'd undercook fettuccine, toss it with the
eggplant
sauce, load it into a casserole dish, liberally top it with fresh mozzarella, then bake it. After chilling it, we'd cut it into squares and sell it out of the deli case. Customers could toss it into their microwave at home, then enjoy a satisfying vegetarian supper.
I roast the eggplant in olive oil; even with the 3 tablespoons used, I use more when sautéeing in a pan. You could also enjoy the eggplant sauce over couscous. Any way you prefer, the sauce is a winner and highly recommended.
Time: 40 minutes
Number of servings (yield): 4

Ingredients
12 ounces dry pasta
6 cups (1-inch) cubed peeled eggplant (about 1-1 /2 pound eggplant)
3 tablespoons plus 1 extra virgin olive oil
1 cup chopped onion
2 teaspoons minced garlic
1/4 cup red wine, optional
1 (28 ounce can) crushed tomatoes
1/4 cup pitted, sliced pitted kalamata olives
1/2 teaspoon sugar, optional*
1/2 teaspoon to 1 tablespoon red pepper flakes or cayenne
1 packed cup torn or chopped fresh basil
Freshly grated Parmesan cheese
Instructions
1. Preheat oven to 425 degrees and bring a large pot of salted water to a boil. Cook pasta according to package instructions.
2. Toss eggplant with 3 tablespoons of olive oil. Place eggplant in a single layer on a baking sheet. Bake for 15 minutes, stirring once.
3. While eggplant is roasting, heat remaining oil in a heavy bottomed skillet or Dutch oven over medium heat. Add onions and cook 4 minutes or until translucent, stirring occasionally. Add garlic and cook another minute, stirring, or until just fragrant. Stir in wine, if using, and cook one minute; add tomatoes.
4. Simmer 30 minutes, then taste and add sugar is sauce is bitter; add eggplant and olives to the sauce. Season to taste with red pepper flakes or cayenne and kosher salt. Stir in basil. Toss the sauce with the pasta, and serve with Parmesan.
* I only use sugar if my canned tomatoes taste bitter. Generally try avoiding the addition, though — canned tomatoes have enough sugar as is.
Peggy Lampman is a real-time food writer and photographer posting daily feeds on her website and in the Food & Grocery section of Annarbor.com. You may also e-mail her at peggy@dinnerfeed.com.