Posted on
Tue, Nov 8, 2011 : 5:59 a.m.
Peanut Butter and Oatmeal Cookies are delicious and gluten-free
By Anne Savage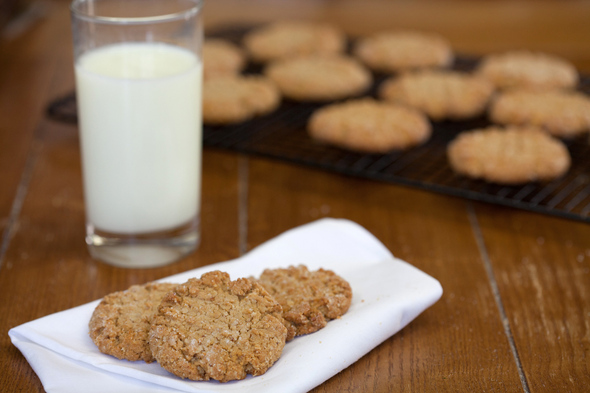 Anne Savage | Contributor
I know, delicious,
gluten-free
baked-goods sounds like a stretch, but, I kid you not, these are fantastic
cookies
.
Three million people in the United States are estimated to have Celiac disease, and up to 18 million may be gluten intolerant. That's roughly one in 15 people who are allergic or sensitive to gluten.
In addition to those who are sensitive to gluten, there are many who have chosen this diet to either support a family member with an intolerance, to increase their energy, or to lose weight. Regardless of the reason, it is likely that you know someone who has adapted a gluten-free lifestyle.
I personally do not have a sensitivity to gluten, but the son of a good friend of mine has Celiac disease and she, in-turn, has chosen to eliminate gluten as well. My husband and I went over to their house for dinner the other night, and I wanted to bring along a desert that everyone could enjoy, which required me to make something that was gluten-free and delicious.
Also, with the rapidly approaching holiday season I thought it might be helpful to have a cookie recipe on-hand for those who are gluten-free. The best part, I'd make these for my family anytime because they are scrumptious and the fact that they are gluten-free is irrelevant. It's just a darn good cookie.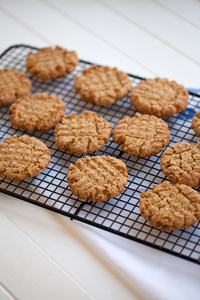 Anne Savage | Contributor
Peanut Butter and Oatmeal Cookies (gluten-free)
Makes about 2 dozen cookies
Ingredients:
3/4 cup creamy peanut butter
4 Tablespoons butter
1/2 cup white granulated sugar
1/4 cup brown sugar
1 teaspoon vanilla
1 egg
1 teaspoon baking soda
1 cup gluten-free rolled oats*
1/2 cup pecans or walnuts finally chopped
1/2 teaspoon of salt
extra white sugar for coating
*Make sure you buy oats that say they are gluten-free. Oats are naturally gluten-free but are often processed in a facility that process gluten products, as well, and cross-contamination is a possibility. Bob's Red Mill has rolled oats that are gluten-free.
Preparation:
Preheat the oven to 400 degrees. Line a large baking sheet with parchment paper and set aside.




In a food processor grind the oats to a powder. In another bowl, mix together the ground oats, chopped nuts, baking soda and salt. Set aside.




In a medium-sized bowl using an electric hand mixer, or in a stand mixer, cream the peanut butter, butter, white sugar, brown sugar and vanilla until well combined, about 2-3 minutes. Add the egg and mix for another minute. Add the dry ingredients to the peanut butter mixture until combined.

Use a tablespoon to scoop the dough and make balls. Roll the balls in a little white sugar and place onto the baking sheet. Use a fork to press down on the balls in a criss-cross pattern.

Bake until the cookies until they are golden brown and the surfaces have cracked, about 10 minutes. Allow cookies to cool on the pan completely.


For more photos or to print this recipe, click here, or go to The Savage Feast for additional recipes or to subscribe. You can also follow The Savage Feast on Facebook!
Anne Savage is a professional photographer living in Dexter. She specializes in food photography and is an experimental cook and avid gardener. Much of her food photography and many of her recipes can be found at http://thesavagefeast.com.