YOU SHOULD ONLY BE HAPPY ....
recipe:

Peanut butter pancakes with Nutella sauce perfect way to celebrate National Pancake Day

Posted on Mon, Sep 26, 2011 : 8 a.m.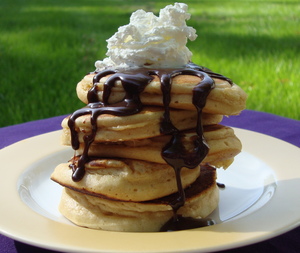 Mary Bilyeu | Contributor

Rosa Parks lived an extraordinary life, and saved many memorable items — everything from gifts given by Martin Luther King Jr. to her own personal address book — before her death in 2005.

Guernsey's auction house has now been given the responsibility of selling this collection, as a permanent home is sought for the treasures.

On one slip of paper that was found amidst everything — a simple receipt from a Detroit bank — a recipe was found scribbled on the back in Rosa's own handwriting: a recipe for Featherlite Peanut Butter Pancakes.

Well, considering that today is National Pancake Day, it only seemed fitting to put this find to good use!

I did tweak the recipe just a bit, and I turned it into a dessert complete with chocolate sauce... well, not just chocolate sauce, but rather Nutella sauce. Thus, the pancakes are small instead of plate-sized; they're perfect for a special treat, rich and decadent.

Celebrate the holiday in style!

Peanut Butter Pancakes with Nutella Sauce
(slightly modified from Rosa Parks' original recipe)

Pancakes:
1 cup flour
2 tablespoons baking powder
1/2 teaspoon kosher salt
2 tablespoons sugar
2 eggs
2/3 cup peanut butter
1 cup milk
1/2 teaspoon lemon juice

In a medium bowl, combine flour, baking powder, salt and sugar. In another bowl, whisk the egg and the peanut butter together with a fork; whisk in the milk and the lemon juice, then pour the liquid over the dry ingredients and combine well.

Grease a 10-inch skillet and pour batter by 1/8-cupfuls into the skillet; cook over medium heat for 2 minutes per side, until the pancakes are golden and the edges don't appear to be raw. Continue until all of the batter is used up.

Nutella Sauce:
1/2 cup Nutella
4 tablespoons half-and-half

Combine the Nutella and the half-and-half; microwave for 45 seconds until warm, and stir until smooth.

Serve pancakes topped with Nutella sauce and whipped cream.

Makes about 20 3-inch pancakes, serving 6-8.




has won or placed in more than 60 cooking contests and writes about her adventures in the kitchen. She was thrilled to have her post about Scottish Oatmeal Shortbread named as one of the daily "Best of the Blogs" by the prestigious Food News Journal.
Go visit Mary's blog — Food Floozie — on which she enthuses and effuses over all things food-related. Her newest feature is Frugal Floozie Friday, seeking fun and food for $5 or less ... really! Feel free to email her with questions or comments or suggestions: yentamary@gmail.com.
The phrase "You Should Only Be Happy" (written in Hebrew on the stone pictured in this post) comes from Deuteronomy 16:15 and is a wish for all her readers as they cook along with her ... may you always be happy here.