Posted on
Fri, Sep 23, 2011 : 4:53 a.m.
Baked Eggs Florentine perfect for brunch the morning after a late night out
By Peggy Lampman
Peggy Lampman | Contributor

Peggy Lampman's Friday dinnerFeed
My daughter and some of her friends from college are in town for the University of Michigan football game. They live outside of Michigan but consider this town their second home. (You can take the girls from Ann Arbor, but you can't take Ann Arbor from the girls; they love this town.)
The last time they were staying with Richard and me was a couple of years ago. They came with their fiances, and I served them this exact dish for breakfast.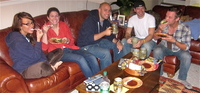 I amped up the spinach in the recipe below. You could probably decrease the amount by 10 ounces, but the girls are big fans of spinach. I also added sliced tomatoes because they're so good at this time of the year.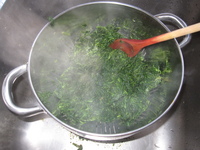 They were out partying till all hours last night, and slept until noon. (Apparently Ann Arbor is a totally different scene after my bedtime.) The last time I slept until noon was after giving birth to my son. Ah, youth.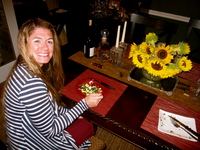 Yield: 8 servings (one egg serving)
Active Time: 20 minutes
Bake Time: 20 to 30 minutes
Ingredients
36 ounces frozen spinach
2 tablespoons extra virgin olive oIl, plus extra for greasing pan
1 tablespoon unsalted bulter, optional
8 large eggs
8 slices tomato, optional
1 1/4 cups grated Parmesan
Directions
1. Preheat oven to 375 degrees.
2. Cook spinach according to package instructions. Wring out as much water as possible and stir in olive oil and butter, if using. Season to taste with kosher salt and freshly ground pepper. (I enjoy a lot of pepper.)
3. Oil or butter a 9x13-inch baking dish. Pack spinach and spread over bottom of dish. With a spoon, make 8 indentations; place tomato slices into indentations, if using. Crack eggs into indentations or over tomatoes, and lightly season with kosher salt and freshly ground pepper. Evenly divide and sprinkle parmesan over casserole.
5. Bake on middle rack of oven 20-30 minutes, or until cheese is golden and eggs are cooked to desired level of doneness.
Looking for a specific recipe? Click here for dinnerFeed's recipe search engine; type the recipe or ingredient into the search box. I am a real-time food writer and photographer posting daily feeds on my website and in the Food & Drink section of Annarbor.com. You may also e-mail me at peggy@dinnerfeed.com.