Posted on
Thu, Nov 17, 2011 : 2:21 p.m.
Root Vegetable Gratin is a perfect make-ahead side dish for Thanksgiving (+Thanksgiving Cookbook)
By Peggy Lampman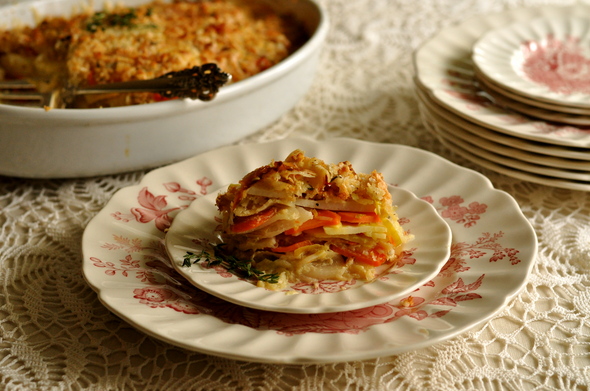 Peggy Lampman | Contributor
The Turkey Day countdown has begun. Many cooks and hosts across town are spending down time studying recipes, making lists and mapping a Thanksgiving defense strategy. I, personally, begin with a spread sheet, prioritizing side dishes that may be made in advance — my primary tactic to minimize kitchen chaos.
Granted, the main dish — the turkey — provides the drama. Its aroma and sheer largess are what elicit the oohs and ahs as it's carved at the table. But its the side dishes that prickle my family's palates.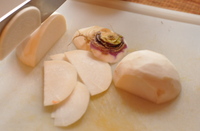 This Root Vegetable Gratin is an example of a perfect make-ahead side dish; I serve it every year. The dish can be made up to 24 hours in advance (omitting the topping), then wrapped and refrigerated.
Thirty minutes prior to serving (as your turkey is resting), top it with the panko-cheese mixture and pop it into the oven.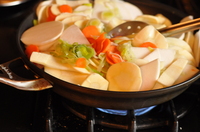 Root vegetables are the underground edibles of the vegetable world; a sub-culture of subterranean beauty with flavor, price tags and health properties easy to digest. This accommodating recipe, which utilizes the season's bounty, may also be lightened up, if desired. Substitute olive oil for the butter and milk for the half-and-half or cream.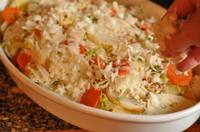 It's a dish for hosts who insist upon tackling the whole feast, yet don't want to be hovering over a sauté pan at the last minute. It's also a gem of a recipe for the guest who promised to bring a dish to pass. (Just make sure to coordinate oven time with the hostess; oven space is valuable square footage on Thanksgiving.)
Happy Thanksgiving!
Active Time: 45 minutes (mostly spent slicing vegetables; a mandolin would make the process quicker)
Bake Time: 20-25 minutes
Yield: 8-12 servings, depending on the amount of other side dishes served
Ingredients
1 tablespoon extra virgin olive oil, plus extra for brushing over casserole
1 tablespoon unsalted butter
2 leeks, white and light green parts only, thinly sliced and well washed*
4 large carrots, peeled and sliced into 1/8-inch rounds*
2 parsnips (about 1/2 pound), peeled and sliced into 1/8-inch slices*
2 turnips (about 1/2 pound), peeled and sliced into 1/8-inch thick rounds*
1 tablespoon chopped fresh thyme leaves (or 1 teaspoon dry)
1 cup half-and-half or heavy cream
1 cup grated Gruyere, Asiago or Parmesan cheese
1/2 cup panko
Instructions
1. Preheat oven to 400 degrees.
2. Heat oil and butter in your largest large sauté pan over medium heat (you may want to use two pans). Sauté leeks with a pinch of kosher salt for 3 minutes, or until limp. Add carrots, parsnips, turnips and thyme and sauté for 5 additional minutes, until slightly softened. (Your pan will be crowded; with prongs, periodically lift the bottom vegies to the top). Do not let vegetables overcook as they will continue cooking in the oven. Season to taste with kosher salt and freshly ground pepper.
3. Transfer vegetables to a well-oiled ovenproof casserole or gratin dish. Pour half-and-half or cream over top. Combine cheese and panko and top casserole with mixture.
Bake on middle rack of oven 20-25 minutes, or until top is golden brown. Brush top with olive oil for added richness, if desired. Tent with foil until ready to serve.
*You should have about 6 cups of sliced leeks and 10 cups of sliced vegetables. Onions, garlic, rutabagas and sweet potatoes are other root vegetables that are delicious additions or substitutions for any of the ingredients used in this recipe.
My new web site (packed with holiday recipes) is up (www.dinnerFeed.com)! I'm a real-time food writer and photographer posting daily feeds on my website and in the Food & Drink section of Annarbor.com. You may also e-mail me at peggy@dinnerfeed.com.