Posted on
Fri, Oct 21, 2011 : 10:07 a.m.
Bulgogi Bop - the secret is in the sauce
By Peggy Lampman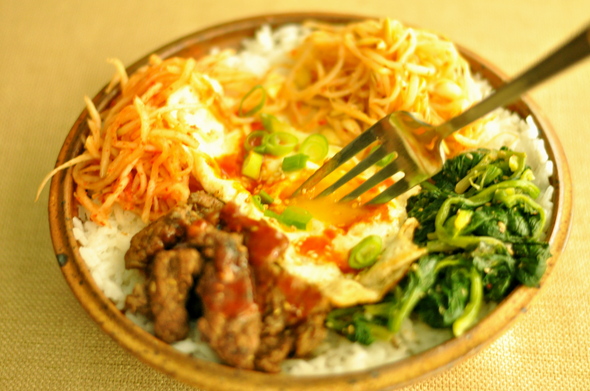 Peggy Lampman | Contributor


Peggy Lampman's Friday dinnerFeed
Bibimbap, Bibimbop, Bi Bim Bop, B-Bop, Tofu bop, Beef Bop, beep beep b-bop...variations of the name have as many variations as the recipes. After this week, I'm on a first name basis, so affectionately refer to this Korean egg, rice and vegetable dish simply as Bop.
You'll have to read yesterday's saga regarding my quest for making an authentic Korean bulgogi, which is the marinated beef commonly used as one of the components in bops. The following "recipe" uses leftovers from yesterday's supper.
I was planning on making all of the vegetable ingredients seperately. At least that was the plan, until I shopped at Hyundai Market on Platt and Ellsworth.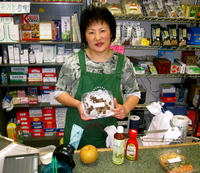 I'm not positive what I purchased, Ms. Kim only knew the Korean names. But I'm certain daikon shreds and sprouts, tossed with Korean chili paste, were part of the composition; there was spinach, and there was a brown spaghetti-like item, which tasted like some sort of fermented vegetable.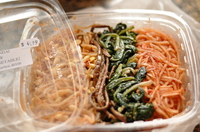 Any vegetables you enjoy or have on hand would work. The secret to delicious bop, as one reader, Susan Jordan, shared with me, is in the sauce. She advised me to procure the recipe from Kosmo deli. I failed in that mission, but made an acceptable version based on Ms. Kim's advise.
There's another bop — Dolsot Bi Bim Bap — which is served in a hot stone pot and supposedly keeps the bob hot and rice crunchy. I haven't tried this but imagine it would elevate the dish to another plateau.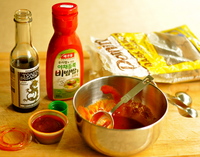 No time to cook? More than likely there's a bop near you. My son's favorite is Tianchu, downtown near State. I enjoy spending Sunday mornings eating Bop with my paper at Bell's Diner on Stadium. And let's not forget Kosmo Deli in Kerrytown or BeWon, next to the Busch's on Plymouth Road.
Ingredients
Steamed white rice
Assorted vegetables such as sprouts, shredded daikon and/or carrot, blanched spinach and julienned zucchini, and saut&eacuteed mushrooms*
Fried eggs seasoned with kosher salt and sprinkled with sesame seeds
Bulgogi (See yesterday's blog for recipe — pork, chicken and tofu may be substituted.)
Korean Pepper Sauce (See yesterday's blog for recipe.)
* I purchased seasoned shredded vegetables, sprouts and spinach ready-to-go at Hyundai Asian Market.
Directions
1. Divide steamed rice into serving bowls.
2. Arrange vegetables and proteins on rice; top with the fried egg. Mix together and enjoy, passing the Korean Pepper Sauce.
My new web site (packed with holiday recipes) is coming soon! But in the meantime, If you're looking for a specific recipe, click here for dinnerFeed's recipe search engine; type the recipe or ingredient into the search box. I am a real-time food writer and photographer posting daily feeds on my website and in the Food & Drink section of Annarbor.com. You may also e-mail me at peggy@dinnerfeed.com.