Posted on
Thu, Sep 15, 2011 : 4:47 a.m.
Grilled Zucchini and Sweet Pepper Roll-Ups with Goat Cheese recipe makes even larger squash delicious
By Peggy Lampman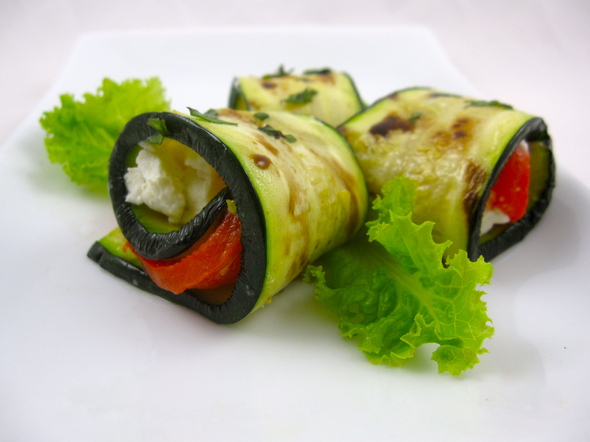 Peggy Lampman | Contributor

Peggy Lampman's Thursday dinnerFeed
Pity the zucchini. Yesterday's Farmers Market witnessed kids pointing and sniggering at one gargantuan, misshapen beast. My impulse was to drape my sweater over its lizard-like skin to avoid it suffering further indignities.
The indecisive days between summer and fall, shifting from swollen heat to bracing winds, produce these overfed contortionists — a far cry from early summer's sweet babies, which are so wonderful diced raw into salads or tossed whole onto the grill.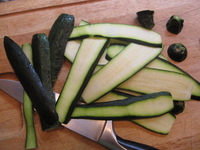 Peggy Lampman | Contributor
Internet gossip is ripe with zucchini lore, rumors of some zucchinis growing up to seven feet long. I refrained from gawking at our farmers market specimen and admired its stoic fortitude.
I never, however, eat zucchini this large. They are generally packed with seeds, and if they have any flavor, it can be bitter. Unsure just how big is too big? Slice off a piece and sauté it in butter until tender. If butter can't make it taste good, no culinary wizardry can.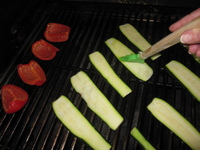 Peggy Lampman | Contributor
The following recipe honors the zucchini, its elegant presentation restoring respect and dignity to this much maligned vegetable — er, fruit. (According to Wikipedia, it is an immature fruit; the swollen ovary of the female zucchini flower.)
I selected medium to medium-large zucchini's (in the 5-6-inch length range), and — with a surgeon's precision — sliced them into strips, grilled, then served them daintily coiled with goat cheese and red pepper.
Back to that aforementioned farmers market zucchini. It remained, unsold, by days end. I hope the city doesn't issue it a parking ticket or have it towed.
Note: The following recipe was inspired by a Grilled Zucchini Roll-Up recipe card I picked up in a recipe card carousel next to the seafood department at the Meijer on Carpenter Road. The only change I made was using plain goat cheese instead of herbed goat cheese. Also, the recipe took me about 3 times longer to make than the card indicated. That carousel, by the way, was packed with delicious-looking recipes I plan to try soon.
Yield: 10-14 roll-ups
Time: 45 minutes
Ingredients
2 medium-large zucchini, cut lengthwise into 1/4-inch thick strips*
1 red bell pepper, seeds and membranes removed, cut into quarters
2 tablespoons extra virgin olive oil, divided
4 ounces spreadable goat cheese
1 tablespoon chopped basil
2 teaspoons balsamic vinegar
*For easier slicing, first cut the zucchini in half, lengthwise down the center. Then, lay the zucchini on its flat side while slicing into even strips; it will not roll around, and cutting the strips will be easier to manage.
Directions
1. On a charcoal or gas grill, clean and oil grill grates, and prepare heat to medium-high. Brush both sides of zucchini and pepper quarters with 1 tablespoon of oil. Lightly season one side with kosher salt and freshly ground pepper.
2. Arrange zucchini and pepper on grill. Grill 4 to 8 minutes per side or until lightly grilled and softened; peppers may take additional time to grill.
3. When grilled vegetables are cool enough to handle, arrange on a large work surface. Slice peppers into 1/4-inch strips. Place 1 teaspoon of goat cheese about 1/2-inch from one end of each zucchini strip. Top each with 1 bell pepper slice running lengthwise down zucchini strip. Roll up strip, and place seam side down on a serving platter. Repeat with remaining ingredients.
4. Drizzle with vinegar and remaining tablespoon of olive oil, sprinkle with basil and serve.
Looking for a specific recipe? Click here for dinnerFeed's recipe search engine; type the recipe or ingredient into the search box. I am a real-time food writer and photographer posting daily feeds on my website and in the Food & Drink section of Annarbor.com. You may also e-mail me at peggy@dinnerfeed.com.