Posted on
Mon, Nov 14, 2011 : 11 a.m.
Make-ahead Gravy can transform an eating experience (+Thanksgiving Cookbook)
By Peggy Lampman
Make-Ahead Gravy

I'm behind on my Thanksgiving day check-off list. I was planning to make this gravy last month and freeze it, but I kept pushing it to the bottom of the list.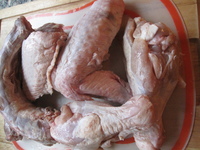 But the clock's a ticking; the feast is less than two weeks away. Yesterday I finally retrieved the recipe for make-ahead gravy — the same recipe I've been using for the past 20 years.
There are thousands of recipes for turkeys out there, and I've tried dozens of techniques. They're all fine but I'm not particularly loyal to any one of them.
But I am loyal to my gravy. Think about it — it's the gravy that makes or breaks the final eating experience. It's the gravy that can resurrect a dry slice of breast, and transform a mild piece of poultry to great heights. So I'm loathe to opening cans or making it from a seasoning pack.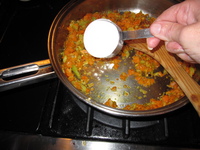 But homemade gravy is such a pain to make at the last minute, and the best gravies are made with the roasted turkey's leftover pan drippings.
This recipe does all the hard work in advance; you freeze it, and then thaw it the night before in your refrigerator. Stir in those savory pan juices at the last minute.
This year's gravy will be a bit different, thanks to some bacon fat congealed in my skillet. I added a couple of tablespoons to the gravy before freezing it and oh la la...la piece de resistance!
Ingredients
1 large carrot, peeled and cut into 1/2-inch pieces (about 3/4 cup)

1 rib celery, sliced into 1/2-inch pieces (about 3/4 cup)

1 small onion or large leek, sliced into 1/2-inch pieces (about 2 cups)

1/4 cup unsalted butter
1/4 cup all-purpose flour
4 cups (32 ounces) chicken or beef stock (or combination)*
1 bay leaf

1/2 teaspoon fresh minced rosemary

5 whole black peppercorns

Pan drippings from turkey
2 tablespoons bacon drippings, optional
Instructions
1. In food processor, pulse carrot until chopped into small pieces but not pureed. Remove and reserve. Repeat the process with celery and onions or leeks.
2. Heat butter in large heavy-bottomed saucepan over medium-high heat. When foaming subsides, add vegetables and saute with a pinch of kosher salt, stirring frequently, until softened and golden brown and fragrant, about 10 minutes. Reduce heat to medium.
3. Stir in flour and cook, whisking constantly, until lightly browned and fragrant, about 2 minutes. Whisking constantly, gradually add chicken or beef stock. Bring to boil, removing any small burnt bits that may form on pan. Reduce heat to medium-low and add bay leaf, rosemary and peppercorns. Simmer, stirring occasionally until thickened and reduced to 3 cups, about 20 minutes.

4. Strain gravy through fine-mesh strainer into sauce pan, pressing on solids to extract as much liquid as possible; discard solids. Season to taste with kosher salt and pepper.(Recipe may be made up to 3 days in advance and refrigerated, tightly covered, at this point. It may also be frozen up to 4 weeks in advance.)
5. Reheat gravy, if refrigerated, whisk in turkey pan juices and bacon drippings, if using, and serve.

My new web site (packed with holiday recipes) is up (www.dinnerFeed.com)! I'm a real-time food writer and photographer posting daily feeds on my website and in the Food & Drink section of Annarbor.com. You may also e-mail me at peggy@dinnerfeed.com.