Posted on
Tue, Nov 1, 2011 : 4:40 a.m.
Northern India Cooking Class; Lesson 1: Green Tomato Curry
By Peggy Lampman
Peggy Lampman | Contributor

Note: This is the first of seven recipe installments, which compose a classic Northern Indian Feast. The following recipe for Green Tomato Curry, a recipe inspired from Southern Indian cuisine, is the exception. Fine Indian cuisine is not noted for its brevity. The good news is that each of Achla Karnani's recipes may be made well in advance, then reheated prior to serving. Or divide the recipes amongst your friends, staging your own Indian Feast pot luck. All spices and dry ingredients are available at Bombay Grocers on Packard.
Peggy Lampman | Contributor
Achla Karmani has been a good friend for years. She's of Punjabi ancestry, but her father worked for the government so growing up she lived all over India. Achla is a fantastic cook, and I've often begged her to share her recipes. Her perennial response: "I'd give them to you if I had them, but I don't. They're all in my head."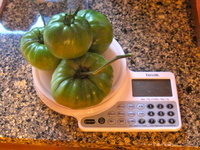 After insistent pestering from me, she devised a plan. She invited her friends over for a cooking class followed by an "Indian Feast", and said I was welcome to record the event. For five, action-packed hours I followed Achla and friends around with my camera and note book.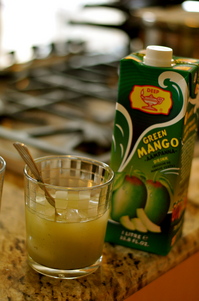 I insisted on bringing a dish, made in my own kitchen, to nibble on during the class. With an explosion of green tomatoes harvested from my vines prior to the frost, I pulled out one of my favorite subcontinent cookbooks, "Mangoes & Curry Leaves," and found a recipe for Green Tomato Curry.
I told Achla what I was bringing, and she was quick to point out that this was typical of dishes served in Southern India; dishes made with ingredients such as coconut milk and curry leaves. It would be a deviation from the Northern Indian theme.
Oh well; I've a lot to learn. It was a delicious curry, however, perfect for nibbling with flat bread, and makes great use of the plethora of green tomatoes found in gardens and markets, particularly at this time of the year.
Through the middle of next week, I will submit postings for Cauliflower, Dal (Black Lentil Purée), Chicken Briyani (in the Thursday paper, as well), Cucumber-Tomato Salad, Meatballs and Chapati. If you're a fan of the kaleidoscopic cuisine of India, particularly Northern India, you may be interested in following them.
Yield: One of seven dishes that comprise an Indian Feast to serve 16.
Make ahead notes: Though this dish is relatively easy to prepare, it may be made up to 24 hours in advance, if tightly covered and refrigerated. Remove an hour before serving, so curry is room temperature. Serve with Indian flatbread.
(This recipe was adapted from Mangoes & Curry Leaves, by Jeffrey Alford and Naomi Duguid. The main change was in the omission of Maldive fish or bonito flakes, ground.)
Ingredients:
2 tablespoons vegetable oil
1/4 cup chopped white onion
2 hot green chilis, such as Thai or cayenne, seeded and chopped
6-8 fresh or frozen curry leaves
1/4 teaspoon ground fenugreek (freshly ground best)
Pinch of turmeric
1 pound green tomatoes, chopped
3/4 cup canned or fresh coconut milk (I prefer whole milk)
Directions
1. Heat oil in a medium-sized, heavy-bottomed pan over medium-high heat. When the oil is hot, add the onion, chilcis, and curry leaves and cook until the onion is light brown.
2. Stir in the fenugreek, turmeric and tomatoes. Season to taste with kosher salt. Cook for about 15 minutes, or until tomatoes are very soft. Add coconut milk and bring to a boil; reduce heat and simmer until the sauce has thickened, about 5 minutes. Serve at room temperature.

My new web site (packed with holiday recipes) is coming soon! But in the meantime, If you're looking for a specific recipe, click here for dinnerFeed's recipe search engine; type the recipe or ingredient into the search box. I am a real-time food writer and photographer posting daily feeds on my website and in the Food & Drink section of Annarbor.com. You may also e-mail me at peggy@dinnerfeed.com.