Posted on
Wed, Oct 19, 2011 : 4:26 a.m.
Pan-Seared Salmon with Balsamic Glaze takes a little patience, but is worth it
By Peggy Lampman
Peggy Lampman | Contributor

Peggy Lampman's Wednesday dinnerFeed
I blogged about the secrets of searing scallops last Friday. Today I'm taking the lessons learned and applying them to salmon.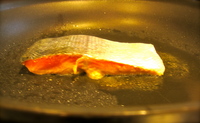 Like scallops, the fish needs quiet time to develop that golden brown crust. You know the salmon is properly seared when it is not sticking to the pan. You can check this by gently lifting a corner of the salmon, after 3 minutes.
Perfectly pan-seared salmon also depends on a very hot pan. Use a heavy cast-iron skillet, if available, or heavy-bottomed saute pan which heats evenly. Warm the pan before you add the oil; this restaurant trick allows the pan to get really hot without burning the oil. A preheated pan also requires less oil. When searing I always use an oil with a high-smoke point, such as grape seed oil or refined canola oil. Smoke point refers to the temperature when the oil begins to break down.
If working in batches, preheat your oven to 200 degrees to keep the cooked salmon warm as your finish searing. You may find it necessary to add a bit more grape seed oil to the pan between batches.
This recipe was originally inspired by Sara Moulton, an ex-pat Ann Arborite now turned Food Network star.
Yield: 4 servings
Time: 25 minutes
Ingredients
1/4 cup balsamic vinegar 

1 1/2 tablespoons fresh lemon juice
1 tablespoon plus 1 teaspoon brown sugar

 4 salmon fillets, center pieces, approx. 1/2 pound each

1 tablespoon plus 1 teaspoon brown sugar

2-4 teaspoons grape seed oil 

1 tablespoon chopped chives and lemon zest, optional garnish
Directions
1. Combine vinegar,1/4 cup water, lemon juice, and brown sugar in a bowl and mix. Set aside.

2. Wash and dry salmon. Lightly season flesh with kosher salt and freshly ground pepper.

3. Heat 2 teaspoons oil in a large cast iron or non-stick skillet on high heat. Make sure heat is high, but the skillet is not smoking.

4. Add salmon to skillet, working in batches if necessary, and sear until brown, about 3-4 minutes on each side, or until just done on the inside. (Review above tips for creating the perfect sear.)

5. Transfer salmon to plates and deglaze pan by adding vinegar mixture to the skillet. The mixture will sizzle and steam. Simmer mixture while stirring until thickened,1-2 minutes.

6. Spoon the glaze over salmon and serve.
My new web site (packed with holiday recipes) is coming soon! But in the meantime, If you're looking for a specific recipe, click here for dinnerFeed's recipe search engine; type the recipe or ingredient into the search box. I am a real-time food writer and photographer posting daily feeds on my website and in the Food & Drink section of Annarbor.com. You may also e-mail me at peggy@dinnerfeed.com.