Posted on
Tue, Sep 27, 2011 : 4:50 a.m.
Portobella Mushroom Burgers with Goat Cheese and Roasted Red Pepper might please even die-hard meat eaters
By Peggy Lampman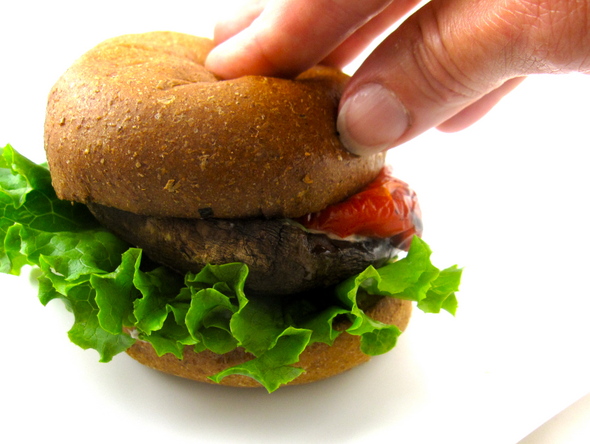 Peggy Lampman | Contributor

I've previously blogged about the wonders of
portobella burgers
. Tonight I'm taking my standard recipe but stuffing the gills with
goat cheese
and adding a piece of
roasted red pepper
to each burger.
Whatever cheese you have on hand should work fine, but goat cheese is a personal favorite. Even die-hard ground meat fans may love this rendition.
Yield: 4 burgers
Time: 40 minutes
Ingredients
3/4 cup mayonnaise
1/4 cup chopped fresh basil
2 tablespoons Dijon mustard
1/4 cup extra virgin olive oil
2 teaspoons minced garlic
1 large red pepper
4 large portobello mushrooms, stems removed and washed
4 heaping tablespoons softened goat cheese
4 of your favorite buns, large enough to accommodate the mushrooms
Greens, such as leaf lettuce, arugula or romaine, as needed
Directions
1. Mix mayonnaise, basil and mustard together. Season to taste with kosher salt and freshly ground pepper. Whisk olive oil and garlic in another bowl.

2. Prepare grill to medium-high heat. Place red pepper on the grill. Brush mushroom caps on both sides with garlic oil. Season with kosher salt and freshly ground pepper. To start, begin grilling the mushrooms gill side down. When the mushrooms are just tender, turn over and divide goat cheese between the mushrooms, spooning and spreading it inside each cap. Transfer to a platter and cover with foil to keep warm.

3. Meanwhile, turn pepper until charred on all sides. Place in paper bag to steam for 10 minutes. Remove from bag and peel off skin. Remove pepper top, cut into quarters, removing membranes and seeds.
3. Grill cut side of rolls, if desired. Top the bottom half of each roll with a mushroom, quarter of a roasted red pepper and leafy greens. Spoon some basil-mustard sauce over pepper and top with the other half of the bun.
Looking for a specific recipe? Click here for dinnerFeed's recipe search engine; type the recipe or ingredient into the search box. I am a real-time food writer and photographer posting daily feeds on my website and in the Food & Drink section of Annarbor.com. You may also e-mail me at peggy@dinnerfeed.com.