Posted on
Mon, Oct 24, 2011 : 9:09 a.m.
Pozole (Mexican Chicken and Hominy Stew) is satisfying and comes together quickly with a few shortcuts
By Peggy Lampman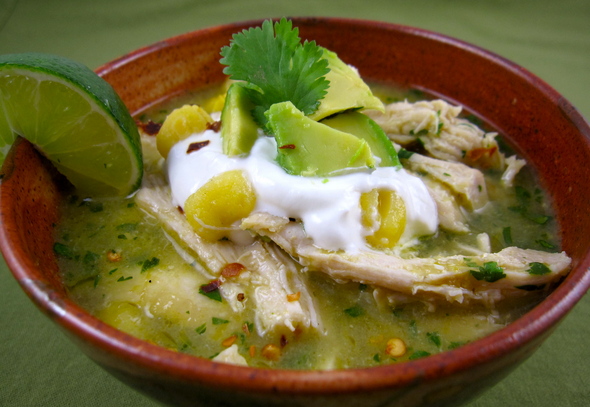 Peggy Lampman | Contributor

Peggy Lampman's Monday dinnerFeed
This delicious
chicken stew
is a greatly abbreviated version of
pozole
(pronounced "poh-SOH-leh"), a traditional Mexican stew. I turn to this recipe when I want a quick, satisfying and easy dinner. I took several shortcuts, using a store-bought salsa verde for instance, and if I'd purchased a rotisserie chicken (instead of poaching chicken breasts), it would save even more time.
Most regions in Mexico have their own version of pozole, as do many homes in Ann Arbor neighborhoods. I'm making a chicken posole flavored with tomatillo, onion and green chilis, and the tomatilla salsa I purchased does most of the the work combining all three of these ingredients.
Pozole is typically served with thinly sliced radishes, shredded lettuce, finely chopped onion, chopped cilantro, sliced avocado, tortilla chips and lime wedges passed on the side. Toasted pumpkin seeds would provide a pleasant crunch.
Yield: 4-6
Time to simmer chicken: 25 minutes

Active Time: 20 minutes
Ingredients
4 cups chicken stock
4 large skinless, boneless chicken breast halves

1 (12-ounce) jar tomatillo salsa or salsa verde *

2,15-ounce cans of hominy, drained and rinsed

1/4 cup minced fresh cilantro

Red chili pepper flakes

Pick and Choose Garnishes: Finely shredded iceberg lettuce, sliced radishes, chopped onion, diced avocado, sour cream, tortilla chips and lime wedges.
Direction
1. In a large, heavy bottomed casserole or pot bring the chicken stock to a slow boil. Add the chicken breasts, cover, reduce heat and simmer over very low heat until chicken is cooked through, about 25 minutes. Reserve cooking liquid. Transfer the chicken breasts to a plate or cutting board, shred the chicken when cool enough to handle.
2. Reduce the cooking liquid over high heat 10 minutes. Combine the tomatilla salsa with the stock. Add the hominy and shredded chicken and bring to a simmer over medium heat. When hot, stir in cilantro. Season to taste, if needed, with kosher salt and chili pepper flakes.
3. Garnish individual bowls of soup with your choice of garnish or pass on the side.
My new web site (packed with holiday recipes) is coming soon! But in the meantime, If you're looking for a specific recipe, click here for dinnerFeed's recipe search engine; type the recipe or ingredient into the search box. I am a real-time food writer and photographer posting daily feeds on my website and in the Food & Drink section of Annarbor.com. You may also e-mail me at peggy@dinnerfeed.com.