Posted on
Tue, Oct 18, 2011 : 8:59 a.m.
Roasted Autumn Vegetables with Pears and Bacon perfect for Thanksgiving or any fall feast
By Peggy Lampman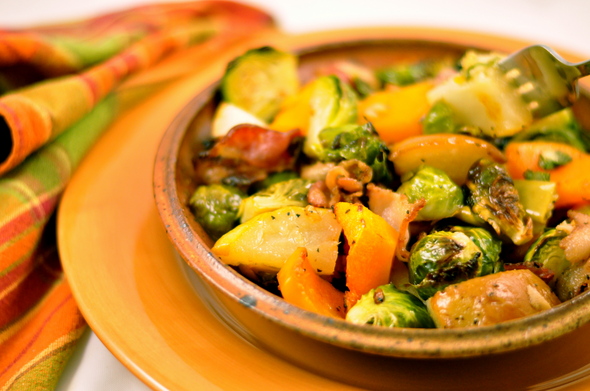 Peggy Lampman | Contributor

Peggy Lampman's Tuesday dinnerFeed
Here's a great recipe for the season — I'm thinking this has Thanksgiving dinner written all over it.
It's a great catch-all recipe for autumn produce. Add apples, turnips, acorn squash or whatever strikes your fancy. The flavors of roasted pear and bacon are marvelous in the recipe. The sage leaves turn into crisp delicious chips when roasted.
Last week I made a simpler recipe with apples and brussels sprouts. Today's recipe, to our palates, was far more superb. Perhaps it was the bacon.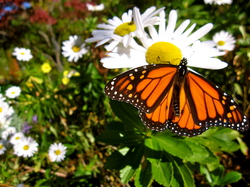 Peggy Lampman |Contributor
Off topic, my garden had the good luck yesterday of having a small herd of Monarch butterflies descend upon the flowers.This guy stood perfectly still as I composed the picture.
Yield: 3 main course or 6 side dish portions
Active Time: 40 minutes
Roast Time: 17-20 minutes
Ingredients
2 tablespoons coarsley chopped garlic
1/4 cup extra-virgin olive oil
1 tablesppon brown sugar
1 pound Brussels sprouts, left whole, halved or quartered (depending on size)
1/2 onion, cut into 1-inch chunks
1 small butternut squash, peeled and cut into 1-inch chunks
1 slices bacon, cut into 3/4-inch pieces, optional
2 branches fresh thyme
8 large fresh sage leaves, torn
2 firm ripe Anjou or Comice pears, cored and cut into 1-inch chunks
Directions
1. Preheat oven to 450 degrees.
2. In one large bowl toss together the brussels sprouts, onion, squash, bacon, thyme and sage. Whisk together sugar, oil and garlic and pour 3/4 of the dressing over vegetables. In another bowl combine remaining oil with pears. Season both mixtures with kosher salt, freshly ground pepper and toss until oil is well combined with vegetables and fruit.
3. Line a large sheet pan with foil, and place in oven 3 minutes. Carefully remove. Spread mixture out on the pan in a single layer, keeping pears separate from vegetables, and bake on center rack of oven until pear is just tender, about 12 minutes. Remove fruit from tray and reserve. Return pan to oven and continue cooking until squash and sprouts are easily pricked with a fork, about five additional minutes. Toss pears with vegetables and serve.

My new web site (packed with holiday recipes) is coming soon! But in the meantime, If you're looking for a specific recipe, click here for dinnerFeed's recipe search engine; type the recipe or ingredient into the search box. I am a real-time food writer and photographer posting daily feeds on my website and in the Food & Drink section of Annarbor.com. You may also e-mail me at peggy@dinnerfeed.com.