Posted on
Fri, Oct 7, 2011 : 4:27 a.m.
Smoked Duck and Apple Appetizer Platter with Merlot Jelly is an easy but elegant starter course
By Peggy Lampman
Peggy Lampman | Contributor

Peggy Lampman's Friday dinnerFeed
Here's a very easy, elegant
appetizer
to feed your friends —the main ingredients being ond
Durham's Tracklements
smoked duck breast
, thinly sliced.
If you're not familiar with Tracklements in Kerrytown and enjoy smoked foods, you're in for a treat. It is marvelous that we have access to such irresistibly delicious products that Trackleman's is known for all over the country.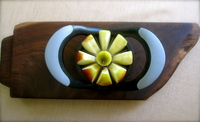 My daughter, Greta, is a woodworker and furniture maker in Chicago and made this little apple cutting board for Richard. It's getting a great workout at this time of the year.
Yield: 8-10 appetizer servings
Time: 15 minutes
Ingredients
1 pound smoked duck, thinly sliced (Durham's sliced it for me)
3 assorted varieties of Michigan-grown apples, sliced
1/3 cup wine-infused jelly*
*I purchased merlot jelly last year at Whole Foods on Stadium.
Directions
Arrange sliced duck, apples and jelly on a cutting board or platter. Smear a bit of jelly over the apple, top with a slice of smoke duck and enjoy.
My new web site (packed with holiday recipes) is coming soon! But in the meantime, If you're looking for a specific recipe, click here for dinnerFeed's recipe search engine; type the recipe or ingredient into the search box. I am a real-time food writer and photographer posting daily feeds on my website and in the Food & Drink section of Annarbor.com. You may also e-mail me at peggy@dinnerfeed.com.