Posted on
Mon, Aug 29, 2011 : 1:33 p.m.
Up North Tomato and Radish Salad is a simple dish made with Michigan produce
By Peggy Lampman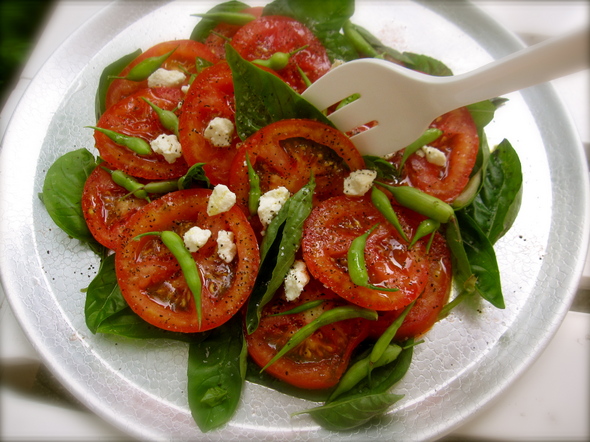 Peggy Lampman | Contributor

Peggy Lampman's Monday dinnerFeed: Up North Vacation: Day 1
For one or two weeks every August, my husband, Richard, and I rent a house in Emmet County, Mich. (on the Northwest side of the lower peninsula) and invite our kids to visit. Roadside stands, farmer's markets and shops selling fish — who previously made the Great Lakes their home — pop up seemingly from nowhere. It's a pleasure buying the local items and conversing with the vendors.
The markets, in truth, stock similar items as you'd find at Ann Arbor markets; perhaps different local cheeses, a larger assortment of wild mushrooms, less fresh greens. This week I'm in a "foreign" kitchen, away from my culinary accoutrements and toys. Therefore all week I'll be preparing easy, simple meals relying primarily on these markets for inspiration.
I've never grown radishes or seen radish sprouts such as this, but that's what the farmer called them. They look like baby jalapenos but taste like a mild radish and have a lovely crunch. Blanched sweet pea pods would be a nice substitute or addition to the salad, which we served with grilled chicken and bulgher.
Yield: 4 side salads
Time: 15 minutes
Ingredients
3 large tomatoes, sliced and seasoned with kosher salt and freshly ground pepper
Several large leaves of fresh basil, washed and patted dry
1 cup radish sprouts
Extra virgin olive oil as needed
2 tablespoon crumbled goat cheese or feta
Directions
On a large platter arrange sliced tomatoes alternating with basil leaves. Top with radish sprouts, drizzle with olive oil and sprinkle cheese over salad before serving.
Looking for a specific recipe? Click here for dinnerFeed's recipe search engine; type the recipe or ingredient into the search box. I am a real-time food writer and photographer posting daily feeds on my website and in the Food & Drink section of Annarbor.com. You may also e-mail me at peggy@dinnerfeed.com.