Posted on
Fri, Sep 30, 2011 : 1:25 p.m.
No time for apple pie? Try Three- Apple Salad with Ginger-Yogurt Dressing
By Peggy Lampman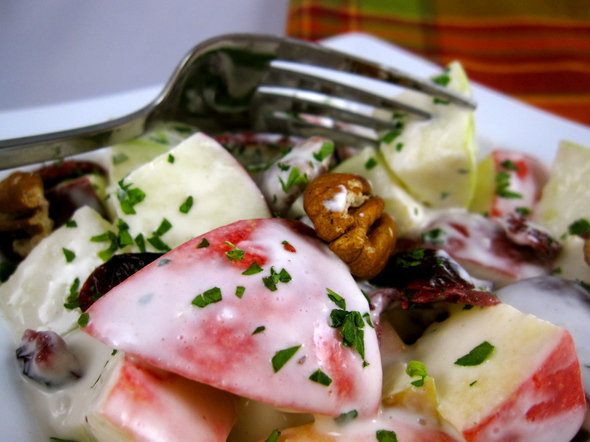 Peggy Lampman | Contributor

Peggy Lampman's Friday dinnerFeed:
No time to make apple pies? Here's another recipe to celebrate Michigan's
apple
season.
I made this recipe a couple of years back, doubling the ingredients for a tailgate party. It's slimmed back to the original size, yielding about 8 cups, which may also be scaled down to suit your needs.
I used Michigan Prime Gold, Gala and Empire apples. Galas are great in salads, and the red Empires lend a sweet and tart crunch. The flavor and texture of Prime Golds reminds me of a firm pear, which I love.
The cream cheese mixture may be made up to 48 hours in advance, omitting grated ginger. The salad, including ginger, may be made up to 4 hours in advance of serving. Before serving, stir and garnish. The dressing would also double as a delicious fresh fruit dip.
Yield: Appx. 1 & 1/2 cups dressing (about 8 cups of salad)
Time: 40 minutes
Ingredients
6 ounces cream cheese, softened
1 cup whole milk yogurt (I prefer strained Greek-style)
1/4 cup honey
1 teaspoon freshly grated (not chopped) ginger root
1 tablespoon finely chopped parsley, divided
6 medium assorted apples: washed, cored, chopped into 1/2-inch pieces
1/2 lemon
3/4 cups toasted walnuts or pecans plus 1/4 cup
1/2 cup dried cherries or cranberries, divided (optional)
Directions
1. In a food processor or mixer, combine cream cheese, yogurt, honey and ginger. Stir in 1/2 tablespoon of parsley.
2. Squeeze lemon juice over cut apple pieces. Combine with the yogurt mixture and 3/4 cups of the nuts.
3. Place in large bowl or serving dish. Sprinkle finished salad with remaining parsley, walnuts and dried fruit.
My new web site (packed with holiday recipes) is coming soon! But in the meantime, If you're looking for a specific recipe, click here for dinnerFeed's recipe search engine; type the recipe or ingredient into the search box. I am a real-time food writer and photographer posting daily feeds on my website and in the Food & Drink section of Annarbor.com. You may also e-mail me at peggy@dinnerfeed.com.