Posted on
Fri, Mar 11, 2011 : 4:22 a.m.
Peggy Lampman's Friday dinnerFeed: Asian Tofu with Vegetables
By Peggy Lampman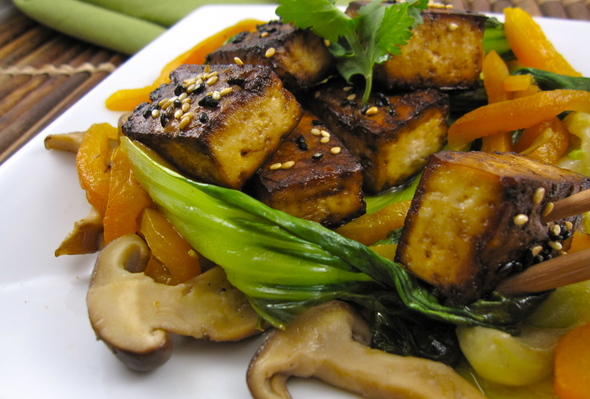 Peggy Lampman | Contributor

I've yet to meet a
tofu
hater who I couldn't convert. All that's necessary is to serve them a marinated then fried cube of tofu with a flavorful dipping sauce. Their response: "Are you sure this is tofu? Do you have any more?" This is a baked tofu recipe, less caloric than fried, but it's pretty darn tasty.
This recipe uses different Asian vegetables and bell peppers.To save time, don't roast the pepper. Simply slice it and sauté it when adding the shiitakes. You may also substitute an Asian marinade, such as Soy Vay, for the soy sauce, sesame oil, sesame seeds and ginger.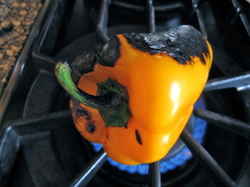 Peggy Lampman | Contributor
This recipe may inspire tofu-haters to turn into tofu-lovers... or at least tofu-tolerators.
Yield: 2-3 servings
Time to drain and marinate tofu: 1 hour to 90 minutes

Active Time: 20 minutes
Ingredients
12-14 ounces tofu; soft, medium or firm

2 tablespoons dark sesame oil, divided

1 tablespoons soy sauce

1 tablespoon rice wine vinegar

1 teaspoon grated fresh ginger root

1/2 teaspoon-1 tablespoon hot chili paste with garlic, optional

1 teaspoon sesame seeds, white, black or a combination

3 heads baby bok choy, remove yellow stems and core

4 ounces shiitake mushrooms, wipe clean, remove woody stems and slice

1 roasted yellow pepper, sliced

1 tablespoon chopped cilantro plus extra sprigs for garnish, optional
Directions
1. Cut tofu into 1-inch slices and drain, weighted down on paper towels, 30 minutes to 1 hour. Moisture content varies greatly so you may need to change the paper towels when they become wet.

2.Cut the tofu into 1-inch cubes. In a shallow dish, whisk together 1 tablespoon of sesame oil, soy sauce, rice wine vinegar, ginger and 1/2 teaspoon chili paste, if using. Taste and add more chili paste as desired. Place pieces of tofu in the marinade and let rest, at room temperature, 30 minutes to one hour, turning once. 

3. Preheat oven to 400 degrees.

4. Line a baking sheet with foil, lightly oiled or sprayed with cooking oil spray. Place pieces of tofu on baking sheet.

5. Bake tofu on center rack of oven 10 minutes. Remove from oven and turn tofu squares over. Divide and sprinkle top of each piece with sesame seeds and return to the oven for an additional 10 minutes, or until tofu is golden brown. 

6. While tofu is baking, in a large sauté pan, heat remaining tablespoon sesame oil. Sauté bok choy until just tender, about 10 minutes. Toss sliced shiitakes with any remaining tofu marinade. Stir mushrooms and peppers into the bok choy and sauté an additional 3-5 minutes or until shiitakes are just limp. 

7. Arrange tofu pieces over sautéed vegetables; sprinkle and garnish with cilantro, if using.

Looking for a specific recipe? Click here for dinnerFeed's recipe search engine; type the recipe or ingredient into the search box. I am a real-time food writer and photographer posting daily feeds on my website and in the Food & Drink section of Annarbor.com. You may also e-mail me at peggy@dinnerfeed.com.