Posted on
Thu, Mar 25, 2010 : 5:01 a.m.
Peggy Lampman's Thursday dinnerFeed: Half & half po' boy sandwich
By Peggy Lampman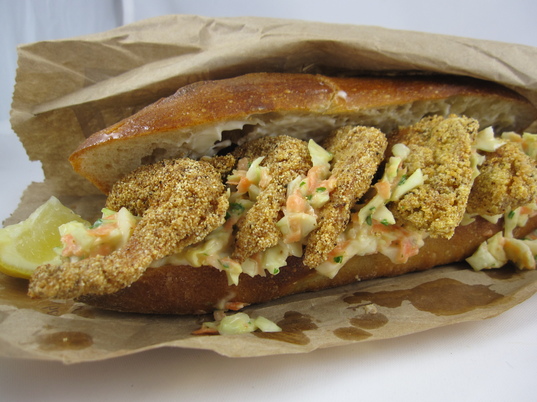 Peggy Lampman | Contributor

America has a blushingly unapologetic love affair with The Sandwich. The Sandwich is especially suited to our national temperament and accommodates our multitasking lifestyle, easily held in one hand while the other hand performs a variety of tasks.

The Sandwich is egalitarian and, with its populist nature, may be customized, or dressed, to suit individual predilections. Plush white bread housing rare roast beef fits as neatly in one's palm as does hommos and sprouts, sandwiched between12-grain wheat bread.
The Sandwich is also a source of pride distinguishing a town or region. The "Chicago-Styled Hot Dog", "Philly Cheesesteak" and "Hoagie" are good examples. Our own fair city of Ann Arbor, indeed, could very well be referred to as "The Little Kingdom of Sandwich," a beloved little deli on Detroit Street occupying the crown throne.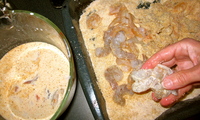 The Louisiana "Po' boy" seems a fitting sandwich for these recessionary times. One of the most popular Po' boys, possibly the Po' boy's namesake, is simply filled with French fries and gravy - cheap and gut satisfying.

Though more expensive than the former, Po' boys stuffed with fried shrimp or oysters are wonderful indulgences.
My brother, Allen, and I were debating whether to make shrimp or oyster Po' boys. Our recipe reconciles this angst giving us several big bites of both fried shrimp and oysters. We christened it the "Half-and-Half," not to be confused with another L.A. (lower Alabama) Half-and Half favorite: Black-Eyed Peas and Turnip Greens.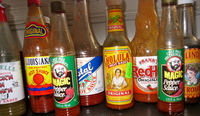 In Louisiana, the cole slaw used in these sandwiches is mayonnaise-based and is more sweet than tart. My recipe for Po'boy Horseradish Coleslaw is delicious with the oysters and shrimp, but you may purchase a pre-made coleslaw, to save time, adding horseradish to taste.

Louisiana Po' boy bread is hard to come by in these parts. I've been pleased with the Sausage Rolls (6 pack for $2.99) I purchased from Whole Foods; if you'd prefer a more dense and chewy texture, the demi baguettes from Trader Joe's may suit you. Po' boy bread may be toasted with garlic butter before "dressing," if desired.
Yield: 6 sandwiches
Time: 1 hour
Cost: Approx. $36, depending on cost of seafood purchased
Ingredients
3 cups cornmeal, white preferred
3 tablespoons seafood seasoning, (such as Old Bay or Paul Prudhomme's Seafood Magic)
2 teaspoons-1 1/2 tablespoons kosher salt*
1 tablespoon black pepper
6 cups peanut or vegetable oil
24 medium-sized oysters, freshly shucked if possible
24 medium-sized raw shrimp
3 egg whites, beaten
6 hoagie rolls or demi-baguettes
1/2 cup mayonnaise
8 cups Po'boy Horseradish Cole Slaw (recipe follows)
2 lemons, cut into wedges
Hot sauce
*Often seafood seasoning blends and fry mixes contain salt. Taste your final cornmeal blend and add salt to taste.

Directions
1. Preheat oven to 200 degrees.
2. Combine cornmeal, seafood seasoning, 2 teaspoons salt and pepper. Taste blend and add salt to taste.
3. Heat oil in a cast iron skillet, fry baby or heavy-bottomed sauté pan to 355 degrees (Use a candy or fry thermometer, if available. If not, oil is ready when a crumb of cornmeal fries briskly in pan. You will need to adjust burner temperature when frying to insure oil maintains a steady sizzle.)
4. Dredge both sides of oysters in corn meal mix. Gently drop in hot oil and fry oysters, in batches, until golden brown, 3-4 minutes on each side. Place oysters on a paper-towel lined baking sheet and place in warm oven.
5. Dredge shrimp in cornmeal mixture, dip in egg whites, then dredge again in cornmeal mixture. Fry shrimp in hot oil (355 degrees) until golden brown on each side. Place shrimp on a paper-towel lined baking sheet in the warm oven.
6. Slice bread horizontally, about 3/4 of the way through leaving one edge intact.
7. Spread mayonnaise over both sides cut bread. Divide Po'boy Horseradish Coleslaw over bottom pieces of bread. Top coleslaw with 4 fried oysters followed by 4 fried shrimp. Serve with hot sauce and lemon wedges.
Po' boy Horseradish Coleslaw (Yield: 8 cups)
1 cup mayonnaise
1 tablespoon cider vinegar
3 tablespoons white sugar
2 teaspoons-2 tablespoons horseradish
1 head green cabbage, diced
1 1/2 cups grated carrot
2 tablespoons grated onion
Make a dressing by combining mayonnaise, vinegar, sugar and 2 teaspoons horseradish. Add diced cabbage, carrot and onion to dressing and combine, adding additional horseradish, kosher salt and freshly ground pepper to taste.

Visit me on dinnerFeed for more more seasonal recipes and local value (recipe search engine on site.) Mini-recipes daily fed to you on my dinnerFeed Twitters.