Peggy Lampman's Friday dinnerFeed: Grilled Halibut, Red Onion and Orange Salad
Posted on Fri, Jun 18, 2010 : 4:43 a.m.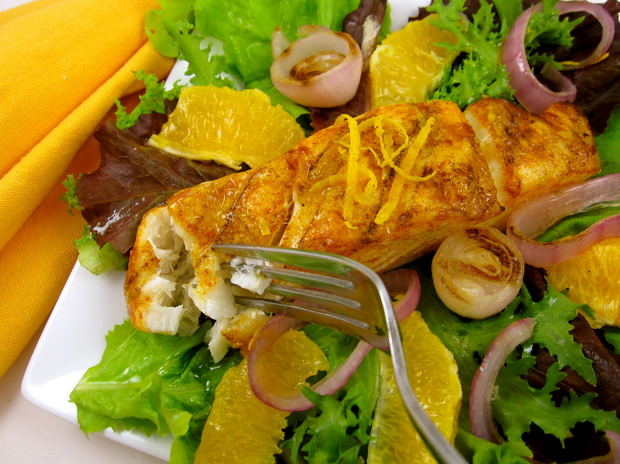 Peggy Lampman | Contributor

This salad, frankly, is exquisite in its simplicity. The flavors of orange and moist, sweet halibut are the perfect foil for smoked paprika. I'd purchased halibut from Monahan's Seafood Market in Kerrytown last month and was unable to use it, so I froze it. It didn't seem to hurt the fish in the least, though I wrapped it well before freezing.

Smoked Spanish paprika and sherry wine vinegar are quintessential flavors of Spain, but don't use a heavy hand with either of them. The intense flavors easily overpower a recipe, but used with discretion, lend marvelous layers of flavor to many foods.

The onion and halibut have about the same grilling time so the salad comes together quickly. If you can't find halibut, snapper fillets would be a good substitute.

Yield: 2 servings Cost: apx. $18 (depending on market price for halibut) Time: 30 minutes

Ingredients

3 tablespoons extra virgin olive oil 1/2 teaspoon Spanish smoked paprika 2 (6-ounce) halibut fillets 1 orange 1 small red onion, sliced into 1/2-inch pieces 1/2 tablespoon Spanish sherry wine vinegar 2 cups mesclun Several sprigs flat-leaf parsley, optional garnish

Directions

1. Preheat gas or charcoal grill to medium-high heat. 2. Combine 1 tablespoon of the extra-virgin olive oil with the smoked paprika and brush over fish. Lightly season with kosher salt and freshly ground pepper. 3. With a toothpick, skewer onion slices through the center to hold in place while grilling. Brush with oil and place on oiled grill grates. Place halibut next to onion on grill. Grill halibut 4 minutes on each side or until fish is just cooked through; if you overcook halibut it will toughen quickly. 4. Zest orange and reserve 1 teaspoon of chopped zest. Remove remove remaining peel and section orange. Make a vinaigrette by whisking together zest, vinegar and remaining 2 tablespoons olive oil. Season to taste with kosher salt and freshly ground pepper. Toss mesclun with vinaigrette. 5. Center halibut on plates and surround with mesclun. Divide and arrange orange and onion slices over halibut and serve.

Looking for a specific recipe? Click here for dinnerFeed's recipe search engine; type the recipe or ingredient into the search box!