Posted on
Fri, Dec 31, 2010 : 4:01 a.m.
Peggy Lampman's Friday dinnerFeed: Mussels with Chorizo and Fennel
By Peggy Lampman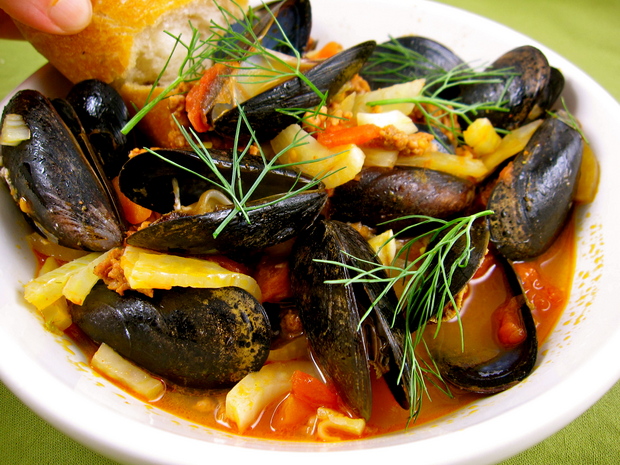 Peggy Lampman | Contributor

Looking for ideas for New Year's Eve? Consider clicking the holiday cookbook :
There must be certain nutrients in shellfish that my body lacks and requires, particularly at this time of the year. Yesterday I romanced the oyster and today finds me craving mussels. Camanchaca Mussels, on sale at Busch's for $3.79 per pound, got me thinking a big pot of steamed mussels would be fun for bringing in 2011 or watching the game.
One of my favorite parts of a dish of steamed mussels is the flavor-infused briny brew. Therefore, having the appropriate "sop" for this sauce, to me, is crucial to their enjoyment. A freshly baked baguette is a given. But I often serve steamed mussels and their sauce on a bed of freshly cooked linguini.
Yield: 4-6 appetizer servings (4 main course servings if served over pasta)
Time: 25 minutes
Cost: $13-$17 (mussels are often on sale, so cost varies accordingly)
Ingredients
1/4 cup extra virgin olive oil
4 links (1 pound) uncooked chorizo sausage, sausage removed from casing
1 large fennel bulb,cored and thinly sliced (reserve leafy fennel fronds for garnish)
1 teaspoon fennel seeds, optional
1 tablespoon minced garlic
2 cups dry white wine
1 (28-ounce) can diced tomatoes
2 pounds mussels, scrubbed (discard any that will not close)
Directions
1. In a large sauté pan, heat the olive oil over medium heat. Add the sausage and break up with a fork.
2. When the sausage is browned, stir in the garlic, fennel seeds and sliced fennel and sauté an additional 3-5 minutes. or until the fennel is just transparent and slightly limp.
3. Add the wine and tomatoes and let simmer briskly for 5 minutes.
4. Add the mussels to the pan. Cover and cook until the mussels open (1-4 minutes). Spoon mussels and broth into serving bowls, discarding any that did not open. Sprinkle with reserved fennel fronds and serve.

Looking for a specific recipe? Click here for dinnerFeed's recipe search engine; type the recipe or ingredient into the search box!