Peggy Lampman's Friday dinnerFeed: Planked Fish with Caper-Tarragon Sauce
Posted on Fri, Jul 30, 2010 : 4:17 a.m.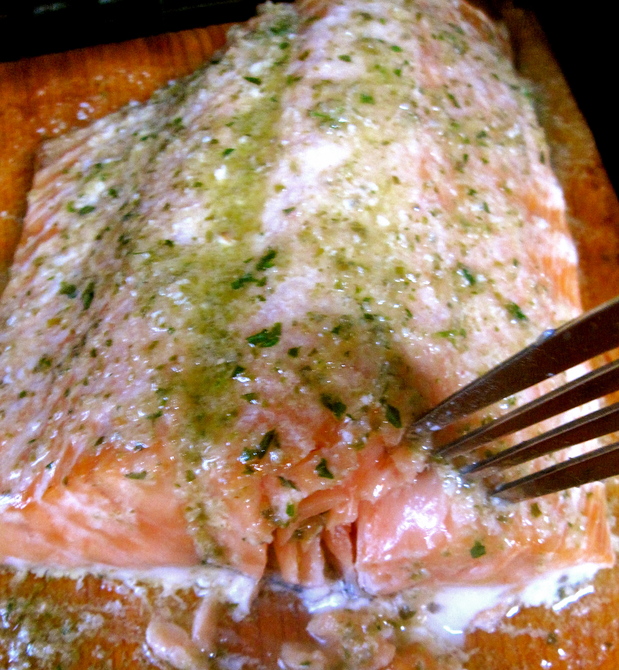 Peggy Lampman | Contributor

Pinch me. For the first time in 395 days, I'm taking this weekend off from recipe blogging! My husband, Richard, will have to hide "Mac" so I'm not tempted to sneak out a blog. Compulsive? Me? Ha! I haven't yet repeated a recipe, so I'm excited to be revisiting old favorites over the weekend and maybe switching them up a bit.
In Wednesday's post, I mentioned the fish are jumping, and that's also reflected in seafood sales around town. I purposely was a bit vague in today's recipe title—there are many fish that would be delicious planked with this Caper-Tarragon Sauce. For more information on grilling fish, in general, check out this post.
I plan to follow this recipe this weekend, except I'll substitute white fish for the salmon; white fish from Big Stone Bay in Lake Huron is on sale at Busch's through Sunday for $5.99.
The white fish fillets are half the thickness of the salmon, so I plan to decrease my grilling time by about 10 minutes, or until the fish flakes when I peek into it with a fork. The salmon are more dense, so I may have more whitefish to grill, depending on their size.
Yield: 3-4 servings Time to soak plank: at least 3 hours
Ingredients
1 cedar plank, large enough to accommodate   fish (optional but recommended) 2 pounds salmon or whitefish fillets 1 teaspoon chopped shallot 1 tablespoon drained capers 1/2 cup extra-virgin olive oil 2 teaspoons dijon mustard 1 1/2 tablespoons fresh lemon juice 1-2 tablespoons chopped fresh tarragon (or 1-2 teaspoons dried)
Directions
1. If using a plank, soak at least 3 hours. Prepare charcoal or gas grill to medium-high heat. Oil grill grate or soaked plank to prevent skin from sticking. 2. Place fish on plank. Season with kosher salt and pepper. 3. In a processor or blender, pulse shallot, capers, olive oil, Dijon, lemon juice, and tarragon. Brush a tablespoon of the mixture on the uncooked salmon. 4. With grill lid closed, grill fillets, basting fish with sauce, until cooked to desired level of doneness. (It takes longer to grill fish when planked. Total cooking time for our fillets was 25-35 minutes, depending on the thickness of fillet, for the salmon; it should be less for whitefish.) 6. Place fish on plates and drizzle with sauce. Serve immediately.
Looking for a specific recipe? Click here for dinnerFeed's recipe search engine; type the recipe or ingredient into the search box!