food & drink:

Peggy Lampman's Friday dinnerFeed: Pork Chops with Apples and Chutney

Posted on Fri, Sep 24, 2010 : 4:56 a.m.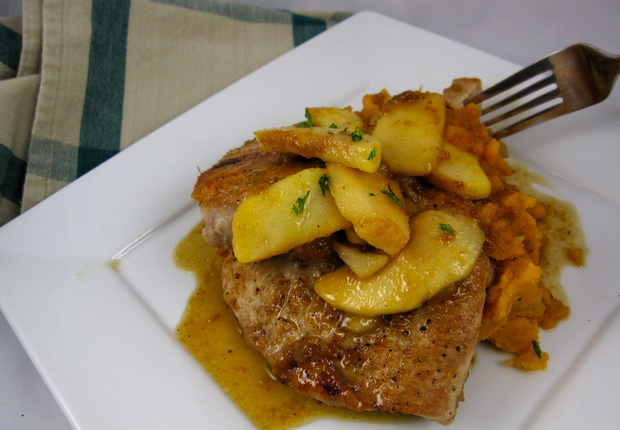 Peggy Lampman | Contributor

Seasonal flavors and a great pork chop sale at Kroger make one of this weekend's meals a no-brainer.

Through Sunday, boneless, center cut pork chops are on sale as "buy one, get one free." Apples are making a showy entrance in markets and groceries in town, as well.

I use 1/2-inch boneless, butterflied pork chops for this recipe. I generally use a thicker chop but I want to cook these quickly. Bone-in chops would be fine, too. It only takes about three minutes, over medium-high heat, on each side to cook when the chops are thin. As with any sear, don't shake the pan while searing so a golden brown crust can develop. The sauce is marvelous, as well, seeping into a side of freshly mashed sweet potatoes.

Air-Chilled chicken breasts are on sale at Whole Foods, through the weekend, for only $1.99 per pound! This apple chutney would be quite happy on chicken, as well. Here's a thought: Make a day of it - pick your own apples for the recipe from a local orchard and stop for the chops on your way home. Have a great weekend!

Yield: 4 servings
Time: 40 minutes

Ingredients
2-3 tablespoons grape seed or canola oil

2 tablespoons chopped shallot, optional

2 apples, such as Jonathan or Granny Smith, peeled, cored and thinly sliced 

4 boneless, 1/2-inch thick, pork chops 

2/3 cups apple cider or chicken stock

2 tablespoons chutney, fruit finely chopped*

1 teaspoon minced parsley, optional
*If you're out of chutney, an excellent substitute is good fruity preserve combined with 1/2 teaspoon freshly grated ginger.

Directions
1. In a large sauté pan, heat 1 tablespoon oil over medium heat. Sauté apples and shallot, if desired, until just tender, about 4 minutes. Remove from pan and reserve.

2. Season both sides of chops with kosher salt and freshly ground pepper.

3. Add an additional tablespoon of oil to pan and heat oil to medium high to high heat. Oil should be simmering but not smoking. Add pork and sear on one side 3 minutes, until lightly browned, turn over and sear 2-3 minutes, or until chops are just cooked through.



Looking for a specific recipe? Click here for dinnerFeed's recipe search engine; type the recipe or ingredient into the search box!