Posted on
Fri, Feb 25, 2011 : 4:08 a.m.
Peggy Lampman's Friday dinnerFeed: Roast Lemongrass Chicken
By Peggy Lampman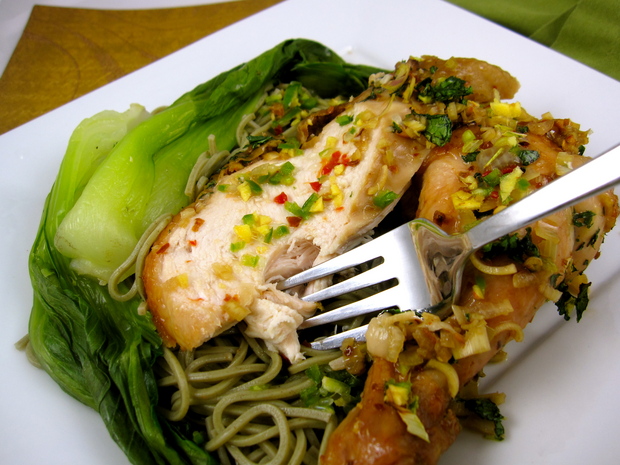 Peggy Lampman | Contributor

In a
Fine Cooking
(August/September, 1997) magazine, there is an insanely delicious recipe for Lemongrass Chicken. I made it last year and, with Amish Roasting Chickens on sale for $1.19 a pound at
Arbor Farms
, it bears repeating.
Cutting lemongrass, available at many markets and Asian groceries, is such exquisite pleasure! I love to deeply inhale its inimitable, citrusy essence — the ultimate aroma therapeutic experience.
I served this with green tea soba noodles (another reason to make the optional sauce) and bok choy.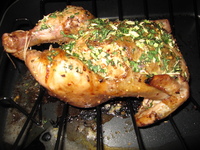 Yield: 4 servings
Active Time: 30 minutes
Roast Time: 60-75 minutes
Ingredients
1/2 cup finely chopped lemongrass (2-3 stalks), plus 2 tablespoons
2 tablespoons chopped shallots
1 tablespoon minced garlic
2 tablespoons fish sauce
1 tablespoon soy sauce
1 tablespoon red chili pepper flakes
2 tablespoons sugar
1 (4 pound) roasting chicken, rinsed and patted dry
2 tablespoons chopped cilantro
1 tablespoon peanut oil
Directions
1. In a dish just large enough to hold chicken, combine the lemongrass, shallots, garlic, fish sauce, soy sauce, chili flakes and sugar.
2. Lift skin from chicken and rub 3/4 paste over the breast and thigh meat. Rub remaining paste on top of chicken. Marinate, refrigerated, 3-12 hours. Bring chicken to room temperature.
3. Preheat oven to 350 degrees.
4. Place bird in a lightly oiled roasting pan and roast, breast side down, on center rack of oven, 40 minutes. Remove from oven and turn the bird over, breast side up. Cook an additional 20 minutes. Remove chicken from oven, cover with cilantro and remaining 2 tablespoons of lemon grass, and return to the oven for 10 minutes. Let rest 10 minutes before carving. Serve with the dipping sauce.
Asian Dipping Sauce (optional) Yields: 2/3 cup of sauce
1 teaspoon chili paste with garlic
1 hot pepper, such as Thai or habenero; wearing plastic gloves, seed and mince
2 tablespoon chopped ginger
3 tablespoons fish sauce
2 tablespoons freshly squeezed lime juice, plus pulp
1/4 cup water
2 tablespoons sugar
Looking for a specific recipe? Click here for dinnerFeed's recipe search engine; type the recipe or ingredient into the search box. I am a real-time food writer and photographer posting daily feeds on my website and in the Food & Drink section of Annarbor.com. You may also e-mail me at peggy@dinnerfeed.com.