Peggy Lampman's Friday dinnerFeed: Grilled Swiss Chard and Smoked Mozzarella Bundles
Posted on Fri, May 21, 2010 : 4:08 a.m.
Peggy Lampman | Contributor

If you're ever in need of an appetizer or vegetarian side dish that's somewhat out of the ordinary, these savory bundles would be the ticket.

I've made Swiss Chard Bundles with other cheeses in the past, but the locally produced Serra smoked mozzarella is my favorite cheese to use in this particular recipe.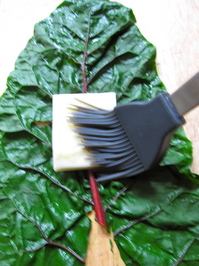 Swiss chard is a sturdy leave that is tough enough to stand up over the heat of a flame. The chard flavor is marvelous with the smoked mozzarella when grilled, and the texture has just the right amount of creamy bite.
Ingredient lists are often no indication of complexity or simplicity of a recipe. This recipe is a case in point. There are only 3 ingredients, but there is technique involved which is somewhat time-consuming. If you enjoy wrapping presents, you'll have no problem!
Yield: 12 bundles Time: 40 minutes Cost: apx. $7.50
Ingredients
12 large ruby or rainbow Swiss chard leaves 3/4 pound smoked mozzerella, trimmed to 12, 1 1/2X1X1/4-inch pieces Extra virgin olive oil for brushing and drizzling
Directions
1. Bring a large pot of salted water to a boil; have a large bowl of ice-water nearby. 2. Plunge chard, 1-2 leaves at a time, into the boiling water and cook until just wilted, about 10 seconds. Using tongs, carefully remove from water and place in ice water. Remove from ice water and drain on paper towels. Repeat steps with remaining leaves. 3. Prepare a gas or charcoal grill to medium heat. 4. Place chard leaves face down, flat side up. Cut the chard to a 7-inch length from the tip. Cut out 2-inches from the bottom thickest part of stalk, halfway up leaf. Place mozzerella pieces on the center of each stem; drizzle with extra virgin olive oil and season with freshly ground pepper. 5. Fold tip side down then tightly fold each side around the cheese, wrapping the cheese into a bundle. 6. Grill 3-5 minutes on each side or until lightly charred and heated through. Serve immediately.
Looking for a specific recipe? Click here for dinnerFeed's recipe search engine; type the recipe or ingredient into the search box!