Posted on
Fri, Nov 19, 2010 : 4:28 a.m.
Peggy Lampman's Friday dinnerFeed: Roast Turkey Nirvana
By Peggy Lampman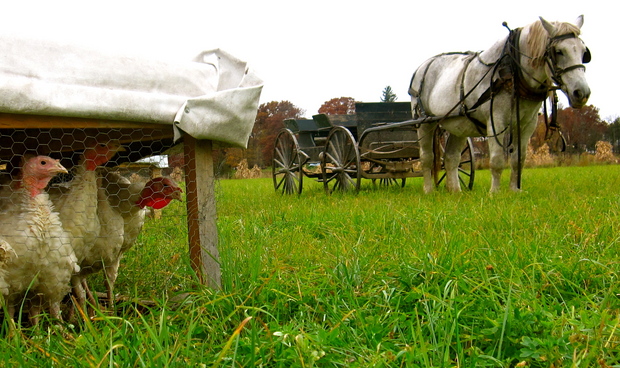 Peggy Lampman | Contributor

Looking for ideas for the upcoming holidays? Consider clicking the holiday cookbook :
Last year I wrote about the wonderful turkey I roasted from Smucker's Farm, available from Arbor Farms. According to their website, it's still not to late to order a bird, but the clock's a-tickin'.
I used a baking soda and kosher salt technique that yielded a flavorful bird with a crispy crackling skin. (Click here for the recipe which includes a three-minute video.)
Gotta scram — that clock's a tickin'!

Yield: 10-12 servings
Turkey Cost: Approx. $46.
Turkey Prep Time: Salt 24 to 48 hours in advance of roasting 

Turkey Roast Time: Approx. 3 to 4 hours, depending on size of bird

Turkey Rest Time: 30 minutes
Ingredients:
1 turkey (12 to 15 pounds), giblets and neck reserved for gravy, if making

3 tablespoons plus 2 teaspoons kosher salt*

2 teaspoons baking powder

16 small fresh rosemary sprigs
Aromatics such as celery, carrots, onion and bay leaf (for stuffing turkey while roasting)

Oven thermometer
* Table salt is not recommended for this recipe. If roasting a kosher or self-basting turkey, do not salt it in step one.
Directions:
1. Carefully separate turkey skin from meat on breast, legs, thighs and back. Rub 1 tablespoon of salt evenly inside cavity of turkey, 1 1/2 teaspoons salt under skin of each breast, and 1 1/2 teaspoons salt under skin of each leg. Wrap turkey tightly with plastic wrap; refrigerate 24 to 48 hours.

2. Combine remaining 2 teaspoons of salt and baking powder in a small bowl. Remove turkey from refrigerator and unwrap. Thoroughly dry inside and out with paper towels. Place rosemary sprigs randomly under skin of breast, thighs and legs. Using skewer, poke 15 to 20 holes in fat deposits on top of breast halves and thighs, 4 to 5 holes in each fat deposit. 

3. Adjust oven rack to lowest position and preheat oven to 250 degrees. Sprinkle surface of turkey with salt-baking powder mixture and rub in mixture with hands, coating skin evenly. Tuck wings underneath turkey. Fill turkey cavity with aromatics such as onion, carrots, bay leaf and celery.

4. Loosely tie turkey legs together. Place turkey, breast-side down, in oiled V-rack set in roasting pan.

5. Roast turkey, breast-side down, until thickest part of breast registers 130 degrees on instant-read thermometer, 90 minutes to 2 1/2 hours. Remove turkey from oven and increase oven temperature to 450 degrees. Flip turkey so it is breast-side up, leaving in V rack in roasting pan.

6. Once oven has come to temperature, roast until skin is golden brown and crisp, the thickest part of breast should register 160 degrees, and thickest part of thigh registers 175 degrees. (If turkey skin is dark, golden brown but not up to the correct temperature, loosely cover with foil. ) Transfer turkey to carving board and let rest, uncovered, 30 minutes. Remove aromatics before carving.

Looking for a specific recipe? Click here for dinnerFeed's recipe search engine; type the recipe or ingredient into the search box!