Posted on
Thu, Nov 26, 2009 : 5:34 a.m.
Peggy Lampman's Thursday dinnerFeed: Savory turkey soup
By Peggy Lampman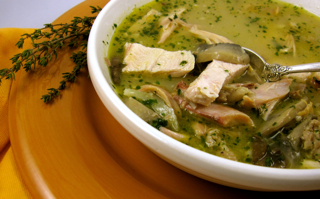 Peggy Lampman | Contributor
Happy Thanksgiving! I am thankful for so many blessings but, pardon the banality, I am exceptionally thankful to finally relax. I can put up my feet, savor another pomegranate cocktail and watch Richard clean the kitchen.
Not just yet -- sigh. I notice him making moves to discard the turkey carcass.
"Drop that bird, Richard!" I exclaim, "and put the carcass in the pot."
Did he forget the value in those bones? That carcass will make the best soup of the year! My job isn't over until the turkey bones, stray bits and juices are in my largest pot, simmering on the stove.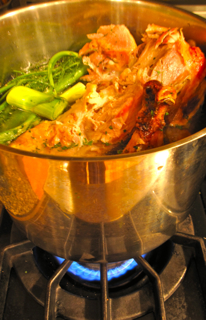 Peggy Lampman | Contributor
This recipe is loosey-goosey, the ultimate "kitchen sink" soup, as the end result largely depends on your holiday leftovers. I used my leftover turkey meat, "Wild Rice, Fennel and Sausage" stuffing as well as leftover "Roasted Garlic Mashed Potatoes and Mushrooms"--the mashed potatoes slightly thickens the stock into a silky, savory brew.
Yield: 12-16 cups Active Time: 10 minutes Simmer Time: apx. 4 hours
Ingredients
Turkey carcass, including skin and accumulated juices 1 onion, quartered (skin on) 2 carrots, washed, unpeeled and sliced into 1-inch pieces Celery tops, optional 3-6 black peppercorns Leftover fresh herbs, optional Bay leaf, optional Leftover turkey, cubed Additional Thanksgiving leftovers, such as potatoes, rice and vegetables*
*No leftovers? Simply simmer egg noodles in strained broth for a soul-satisfying meal.
Directions 1. Remove all usable turkey meat from turkey carcass. Chop and reserve meat with leftover turkey. 2. Place carcass, skin and juices into a large stock pot and completely cover with water to exceed carcass by 1-2 inches. 3. Place yellow onion, carrots, celery tops, peppercorns, herbs and bay leaf, if desired, into pot. Bring to a boil then reduce heat to a simmer, skimming off any foam accumulating on the surface of stock. 4. Simmer until flavorful, about 4 hours, uncovered, occasionally skimming off foam. 5. Strain stock through a very fine mesh strainer. (At this point you may refrigerate stock for later use. When proceeding with recipe, remove and dispose accumulated fat congealed at the top of the stock.) 6. Add leftover turkey and additional leftovers to the stock, reheat and serve.
Visit me on dinnerFeed for more more seasonal recipes and local value. Mini-recipes daily fed to you on my dinnerFeed Twitters.