Posted on
Mon, Jul 12, 2010 : 4:29 a.m.
Peggy Lampman's Monday dinnerFeed: Grilled Black Sea Bass in a Fresh Herb Blanket
By Peggy Lampman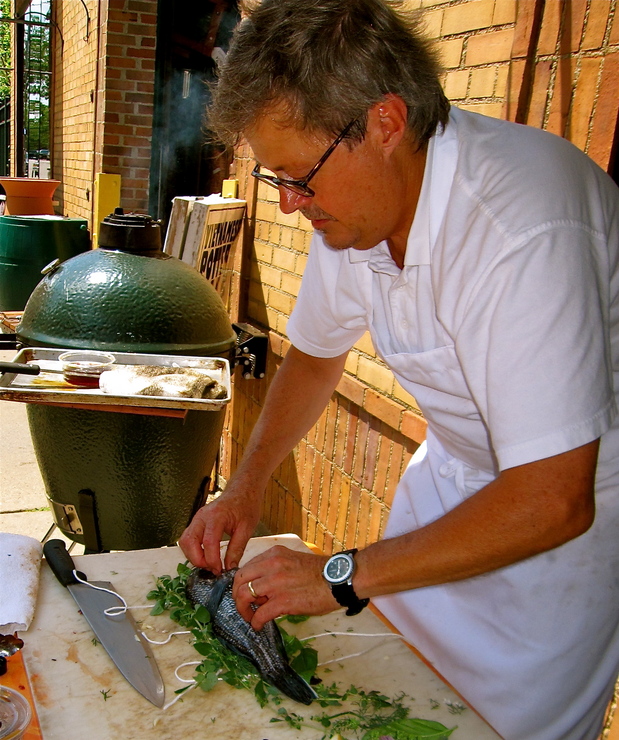 Peggy Lampman | Contributor
I'm taking the day off because, frankly, I couldn't hope to compete with the grilled seafood extravaganza I sampled yesterday. I tasted fish you may not be accustomed to grilling, such as squid, mackerel, sardines, octopus, whole sea bass, swordfish and oysters in their shell. All the fish were marvelous simply sauced with global flavors, then smoked to perfection in a Big Green Egg.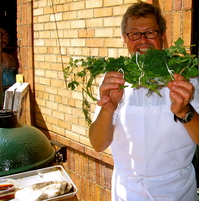 This may sound like a colorful ocean scene from "The Little Mermaid." However, the scenario was an outdoor grilling party, free of charge, for anyone who just happened to be on the corner of Liberty and Ashley yesterday around noon.
Mark Hodesh, owner of Home and Garden, and Mike Monahan, owner of Monahan's Seafood in Kerrytown, generously hosted the event while Wendy Williams sampled the eclectic fare, instructing lucky bystanders on how to properly grill the seafood combinations.
The "Big Green Egg" is a combination grill and smoker with thick ceramic walls. Mark tells me one mound of charcoal placed in the bottom of the "egg" will slow smoke your pork butt or brisket without replenishment through the day.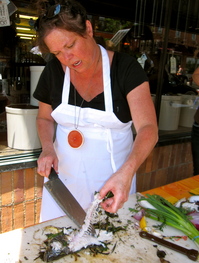 Today's "
feed
" is a simple recipe for black sea bass. It was so delicious, I switched my fork for a pen to scribble down the recipe (below). The fresh herbs and light smoke of the grill enhanced the sweet white meat of the bass to perfection. When eating the fish, don't forget the cheeks--luscious bites that many connoisseurs consider to be the best part of the fish! Here's a
dinnerFeed link
for more tips on grilling whole fish.
This is a great recipe for this time of the year when herbs, even those herbs that may have bolted, may be running rampant in your garden and are prolific at markets around town.
Mark tells me he'll be hosting several tasting events of this sort in October, including a Jam and Pickle Contest and Tasting. Check out the Home and Garden calendar for details and updates to more homegrown fun that can be had on Ashley and Liberty. And certainly, Home and Garden stocks several sizes of the Big Green Egg for your inspection!
Yield: 1-2 servings
Time: 20 minutes
Ingredients
1 tablespoon extra virgin olive oil, divided
1 teaspoon minced garlic
2 teaspoons freshly squeezed lemon juice, plus several thin lemon slices
1 1-pound whole black sea bass*
Several large bunches of fresh herbs, such as dill, basil, thyme and fennel fronds
Kitchen twine
*When purchasing a whole fish for the grill, have it gutted and scaled and have the gills cut out; leave the head and tail on.
Directions
1. Preheat smoker, gas or charcoal grill to medium heat (350Ëš).
2. Wash fish thoroughly and pat dry. Lightly rub exterior of fish with 1/2 tablespoon olive oil and season exterior and interior cavity with kosher salt and freshly ground pepper.
3. Whisk together remaining olive oil, garlic and lemon juice and brush into cavity of bass. Stuff cavity with a small handful herbs and lemon slices. Blanket both sides of bass in remaining herbs then tightly secure fish, in one-inch intervals, with kitchen twine.
4. On a well-oiled grill grate, grill fish, covered, 5-7 minutes on each side. To judge fish "doneness," make a small cut into the largest piece of the flesh; if fish is opaque, not translucent, it is done.
5. With a spatula, remove from grill, remove skin, pull out backbone and serve.

Looking for a specific recipe? Click here for dinnerFeed's recipe search engine; type the recipe or ingredient into the search box!