food & drink:

Peggy Lampman's Monday dinnerFeed: Grilled Turkey Salisbury Steaks

Posted on Mon, Aug 9, 2010 : 4:58 a.m.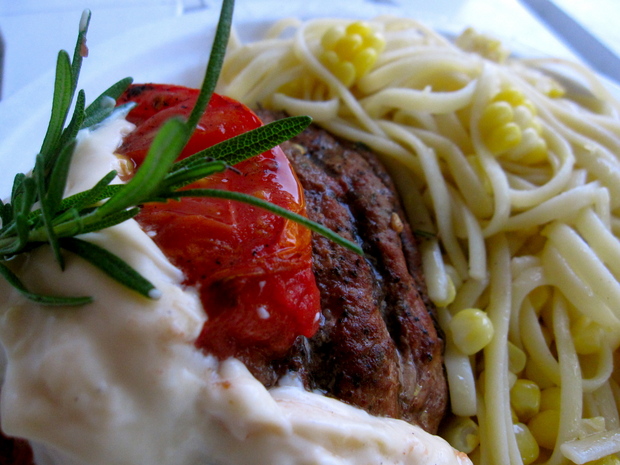 Peggy Lampman | Contributor

In April I reactivated my running regimen, and began blogging about one of the recipes found in Runner's World magazine each month. It's been fun recreating famous chefs' reduced-calorie recipes.

In April I recreated a Rocco DiSpirito recipe for an alfredo sauce using yogurt. The results, tossed with whole-grain pasta, were quite good, made even more delicious by the hundreds of calories I'd saved.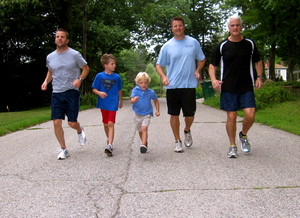 This month's Runner's World edition features another DiSpirito recipe. He does a re-mix of a classic comfort food, salisbury steak, and trims out much of the fat. Some family members selected the recipe then decided to accelerate their appetites with a run - the finish line treats were the turkey "steaks" I made.
Recipe Changes
:
The turkey burgers were delicious, but I added hickory chips to my charcoal fire which accelerated the flavor profile. It also took at least twice as long to cook my burgers as the original recipe indicated, but my burgers were thicker than 1-inch. I also substituted asiago cheese for the provolone, as I had asiago that needed to be used. Forgetting to purchase the red onion when shopping, I eliminated the grilled onion from the original recipe.
The cheese sauce was problematic as it was overly thick without much flavor. To remedy the situation, I added garlic, additional cheese, white pepper and white wine to thin out the sauce. I'm sure, however, this beefed up the caloric count but the results were worth the calories saved.
My knees are shot but my appetite is keen.
Yield: 4 patties
Time: 35 minutes
Cost: apx. $13
Ingredients
1 1/2 pounds ground turkey breast
3 tablespoons finely chopped fresh rosemary, plus extra sprigs for garnish
Olive oil cooking spray
2 heirloom tomatoes, cut into 1/2-inch slices
1 cup evaporated milk
3/4 tablespoon cornstarch
1 teaspoon minced garlic
1 cup shredded asiago cheese
1/2 cup white wine
White pepper
Directions
1. Preheat charcoal or gas grill to high heat.
2. In a bowl, combine turkey and rosemary. Divide into 4 portions and form into 1-inch to 1 1/2-inch thick oval patties. Season both sides of patty with kosher salt and freshly ground pepper; spray patties with olive oil.
3. Place burgers on a well-oiled grill. Spray tomato with olive oil spray. Grill turkey for 8-12 minutes per side or until cooked throughout. Grill tomatoes 2-3 minutes per side.
4. In a bowl, whisk evaporated milk into cornstarch, whisking thoroughly to remove all lumps. Pour into a saucepan; bring to a boil, whisking constantly. Reduce heat to low, add garlic, and cook until thickened, about 1 minute. Whisk cheese into sauce and continue whisking until cheese has melted; add wine and simmer 10 minutes, occasionally stirring. Season with kosher salt and a pinch of white pepper, or to taste.
5. Top turkey patties with tomato; divide and spoon cheese over top. Garnish with rosemary sprigs.

Looking for a specific recipe? Click here for dinnerFeed's recipe search engine; type the recipe or ingredient into the search box!