Posted on
Mon, Feb 28, 2011 : 4:53 a.m.
Peggy Lampman's Monday dinnerFeed: Kale's Chocolate Chip Cookies
By Peggy Lampman
Peggy Lampman | Contributor

What do you do when the weather renders you homebound with an antsy 8 year old? Start a new business — at least that's what Kale and I did;
Kale's Kookie Kitchen
is officially in business as of today; cookies retail at $0.44 each.
Some of the best cookie recipes come from the backs of chocolate (or peanut butter) chip packages and, in this case, chocolate drops. This recipe was no exception.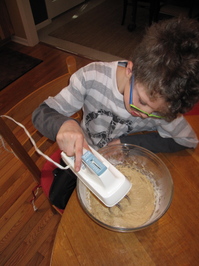 Kale said he wanted to make cookies and sell them, but I didn't have the ingredients on hand. But wait; I did have a half bag of chocolate drops in my cupboard that, handily, had a recipe on the back. I only had 1/2 the required butter (so subbed the rest with — gasp — Smart Balance Flax Spread); I was totally out of white sugar (so used brown) but was set with the remaining ingredients.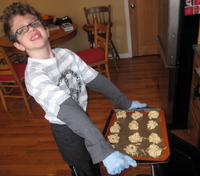 Gosh, darn if these weren't the best cookies I've ever eaten in my life — seriously! We packaged them in baggies and tied them with a ribbon for marketing purposes. But I think he needs to up the price; labor and overhead weren't included in our calculations.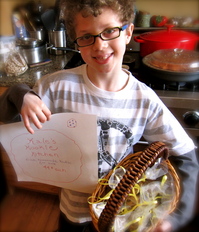 This recipe came off the back of Private Selection (43 percent cocoa) Semi-Sweet Chocolate Drops (purchased from Kroger.) I halved the recipe, as I only had half a bag of the drops, and used all brown sugar. I did not include the Smart Balance, which I combined with unsalted butter, in the recipe below; but feel free to use a similar butter spread if desired — it worked for us!
Yield: 1 dozen cookies
Cost: Approx. $3.50 (retailed at .44 each)
Ingredients
1 packed cup all-purpose flour
1/2 teaspoon kosher salt
12 teaspoon baking soda
3/4 cup brown sugar
1/2 cup (8 tablespoons) unsalted butter, softened
1/2 teaspoon vanilla extract
1 egg
6 ounces chocolate chips
1/2 cups chopped nuts, optional
Directions
1. Pre-heat oven to 375 degrees.
2. Combine flour, salt and baking powder in bowl and set aside.
3. Combine brown sugar, butter and vanilla and beat until creamy. Add eggs and beat. Add dry ingredients, and beat until well combined. Stir in chocolate drops and nuts, if using.
4. Drop mixture by rounded tablespoons onto ungreased cookie sheet. Bake on middle rack 8-10 minutes.
Looking for a specific recipe? Click here for dinnerFeed's recipe search engine; type the recipe or ingredient into the search box. I am a real-time food writer and photographer posting daily feeds on my website and in the Food & Drink section of Annarbor.com. You may also e-mail me at peggy@dinnerfeed.com.