Posted on
Mon, Nov 29, 2010 : 4:32 a.m.
Peggy Lampman's Monday dinnerFeed: Leftover Thanksgiving Turkey Sandwich with Honeycup Dressing
By Peggy Lampman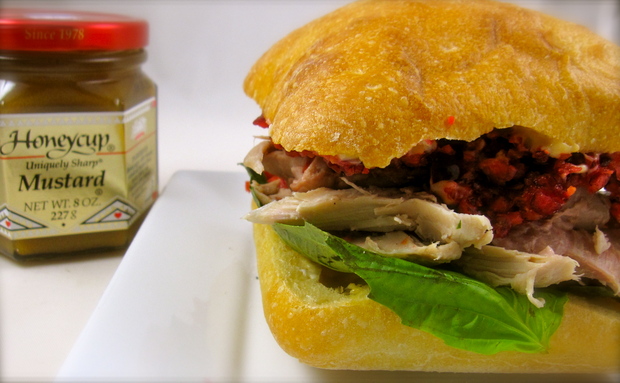 Peggy Lampman | Contributor

Looking for ideas for the upcoming holidays? Consider clicking the holiday cookbook :
The ziplock bag of turkey scraps is almost empty, just enough leftovers for one hefty turkey sandwich. I have a secret weapon that, to my palate, makes an exceptional turkey sandwich.
The particular arsenal I prefer using is Honeycup Mustard, the "uniquely sharp" Canadian condiment. I've tried many honey mustards on leftover roast turkey sandwiches — my favorite remains the original Honeycup.
That's not to say other honey mustards out there aren't delicious with their own particular usages. Mucky Duck, for instance, makes a wonderful honey mustard. I prefer that honey mustard brand when the food requires a dipping mustard: pretzel sticks and eggrolls come to mind.
Yield: 1 sandwich
Ingredients
1 artisan roll, halved lengthwise, or 2 slices your favorite bread
1 tablespoon Honeycup Mustard
1 tablespoon mayonnaise (Hellman's or homemade preferred)
Lettuce or basil leaves
2-3 tablespoons cranberry relish or tomato slices
Leftover turkey
Directions
Combine Honeycup and mayonnaise and spread on bread halves. Layer one side with lettuce or basil leaves, relish or tomato and turkey. Top with lots of freshly ground pepper and remaining bread slice. Serve.

Looking for a specific recipe? Click here for dinnerFeed's recipe search engine; type the recipe or ingredient into the search box!