Posted on
Mon, Jan 31, 2011 : 4:20 a.m.
Peggy Lampman's Monday dinnerFeed: Pasta with Spicy Eggplant Sauce
By Peggy Lampman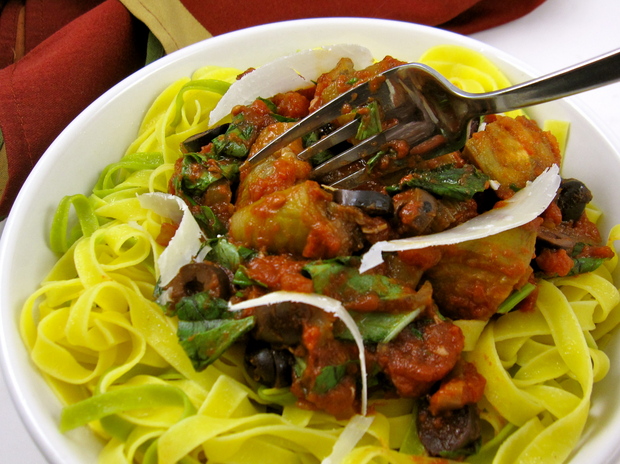 Peggy Lampman | Contributor

This Mediterranean sauce really fits the bill tonight. Its rich, chunky texture and flavor begs a second helping, which is of little concern: it's a healthy sauce.
It would also be wonderful served over couscous or farro; I've always enjoyed eggplant sauces quite spicy, but I'll leave that to your discretion.
I often regard fresh basil as more of a main ingredient rather than a small bit of seasoning to add at the end; this recipe is no exception. I'm always happy to find large packages of very fresh basil leaves prominently displayed (at a reasonable price) when shopping at Hiller's.
Eggplant is a sponge for oil; you may find it easier to spray the eggplant with cooking oil spray before roasting it. I prefer the flavor of poured oil to sprayed, but I'll admit the spray option works well for coating certain vegetables, eggplant in particular, before roasting.
Yield: 4 servings
Time: 40 minutes
Ingredients
12 ounces dry pasta
6 cups (1-inch) cubed peeled eggplant (about 1-1 /2 pound eggplan)
3 tablepsoons plus 1 extra virgin olive oil
1 cup chopped onion
2 teaspoons minced garlic
1/4 cup red wine, optional
1 (28 ounce can) crushed tomatoes
1/4 cup pitted, sliced pitted kalamata olives
1/2 teaspoon sugar, optional*
1/2 teaspoon to 1 tablespoon red pepper flakes or cayenne
1 packed cup torn or chopped fresh basil
Freshly grated Parmesan cheese
* I only use sugar if my canned tomatoes taste bitter.
Directions
1. Preheat oven to 425 degrees and bring a large pot of salted water to a boil. Cook pasta according to package instructions.
2 .Toss eggplant with 3 tablespoons of olive oil. Place eggplant in a single layer on a baking sheet. Bake for 15 minutes, stirring once.
3. While eggplant is roasting, heat remaining oil in a heavy bottomed skillet or Dutch oven over medium heat. Add onions and cook 4 minutes or until translucent, stirring occasionally. Add garlic and cook another minute, stirring, or until just fragrant. Stir in wine, if using, and cook one minute; add tomatoes. Simmer 30 minutes, then taste and add sugar is sauce is bitter; add eggplant and olives to the sauce. Season to taste with red pepper flakes or cayenne and kosher salt. Stir in basil.
4. Toss the sauce with the pasta, and serve with Parmesan.

Looking for a specific recipe? Click here for dinnerFeed's recipe search engine; type the recipe or ingredient into the search box. I am a real-time food writer and photographer posting daily feeds on my website and in the Food & Drink section of Annarbor.com. You may also e-mail me at peggy@dinnerfeed.com.