Posted on
Mon, Feb 15, 2010 : 4:57 a.m.
Peggy Lampman's Monday dinnerFeed: Red beans & rice; 2 versions
By Peggy Lampman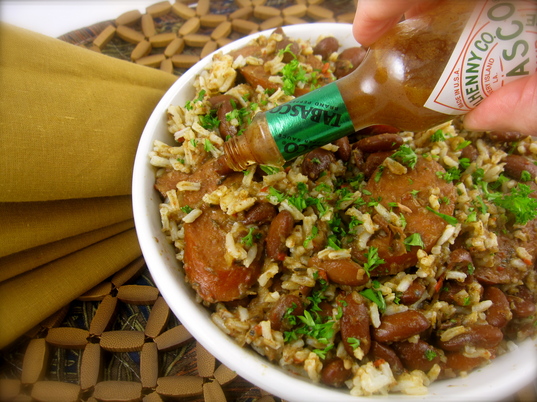 Peggy Lampman | Contributor
My niece, a grad student at Tulane, loves living in New Orleans. Family trips to this fabled American city have always been more fun because of her "insider" knowledge.

Except for the time she took us to Mid-City Lanes Rock 'n' Bowl, a live music and dance venue set in the middle of a bowling alley. There was a particularly good Zydeco band playing that evening, and she said the place was teaming with Cajun fella's anxious for dance partners.
Problem was, I'd never danced to Zydeco. She assured me it was a simple two-step and my feet would quickly catch the rhythm.
I've always enjoyed dancing, whether it be to the oscillating rhythms of Louis Armstrong or Diana Krall and fancy myself a decent swing partner. But this funny little side step totally caught me off guard.
Humiliation comes on many levels. As I doe-see-doed around the dance floor, crunching the feet of many a well-intentioned Louisiana man, I was soon ostracized from the men folk.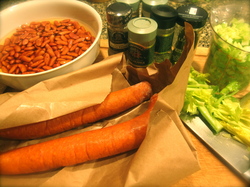 Sitting on the side lines, I studied a
Rock 'n' Bowl
menu, comforting myself by imagining my Red beans and rice were just as good as theirs.

This recipe, inspired by chef Paul Prudhomme, is not a "mouth on fire" kind of a heat. It has has an incredible, deep, rich heat. The problem is, though much of the cooking time is unattended, you need a few hours to make sure the beans cook to perfection and yet do not burn to the bottom of the pan.
The "long-cook" recipe is pretty close to the real deal. I could have worked it a bit more adding ham hocks and dirty rice, but that would have killed more time. The "short-cook" version is also quite tasty but does lack that bottom layer of slow-cooked flavor goodness.
Long-Cook Version
Yield: 4-5 cups beans; 3-4 cups white rice
Bean Soak Time: 12-24 hours
Active Time: 30 minutes
Simmer Time: 90 minutes to 2 1/2 hours (depending on beans used)
Ingredients
1/2 pound dry red beans
1 tablespoon olive oil
1 cup finely chopped celery
1 cup finely chopped white onion
1 cup finely chopped green bell pepper
1 teaspoon white pepper
1 teaspoon dried thyme
3/4 teaspoon garlic powder
3/4 teaspoon dried oregano
1/2 teaspoon cayenne
1/2 teaspoon black pepper
5 cups chicken or beef stock plus additional stock to cook rice
2-3 bay leaves
1 pound smoked andouille* or spicy sausage, cut diagonally into 1/2-inch slices
1 cup long-grain converted white rice
2 tablespoons chopped scallions or parsley
Tabasco, optional
* I purchased exceptional Andouille Smoked Sausage from Sparrow Meats in Kerrytown.
Directions
1. Cover beans with cold water 3 inches above beans*. Let stand 12-24 hours. Drain.
2. In a large heavy bottomed pot or Dutch oven, heat olive oil over medium heat. Cook celery, onions, peppers and dry spices in oil for 6-9 minutes or until vegetables are softened. Add beans bay leaf and stock and bring to a boil. Reduce heat and simmer, uncovered, 1 hour, occasionally stirring.
3. Stir in sausage and simmer another 45-90 minutes, depending on bean, or until beans are very tender, adding additional stock in 1/4 cup increments as needed.
4. While beans are cooking, cook rice, according to package instructions, substituting stock for water and adding a tablespoon olive oil.
5. When beans are cooked, remove bay leaf. Season with kosher salt, if needed. Serve beans over rice, garnished with parsley, passing the Tabasco, if desired.
Quick-Cook Version:
Yield: 4 servings
Time: 35 minutes
Ingredients
1 pound Andouille or other spicy sausage
2 teaspoons olive oil
1 cup white onion, chopped
1 cup red bell pepper, diced
1 cup celery, diced
1 1/3 cups long grain converted white rice
2 cups chicken stock
1 can (14 ounces) red beans
1 1/2 teaspoons Cajun or Creole seasoning
1/4 cups chopped scallion or parsley
Directions
1. Cut sausage into ¼-inch thick slices. In a large heavy-bottomed saucepan or Dutch oven, cook sausage over medium-high heat until browned on both sides. Remove sausage from pan and reserve.
2. Add oil to pan and sauté onion, pepper and celery until softened. Stir in rice, stock, seasoning and reserved sausage and bring to a boil.
3. Cover pan, reduce heat to a simmer and cook until rice is tender, about 20 minutes. Stir in basil or parsley just before serving.

Visit me on dinnerFeed for more more seasonal recipes and local value (recipe search engine on site.) Mini-recipes daily fed to you on my dinnerFeed Twitters.